A message from Jim Carr, Statewide Retiree President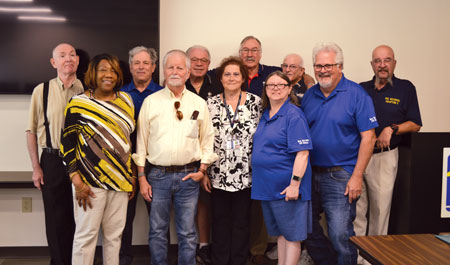 Please check your chapter page and for updated information on in-person meetings that may be scheduled in your region.
New health benefits will be extended on July 1, 2023, to the majority of Empire Plan enrollees, including the following: CSEA, UCS, M/C, and NYS Retirees. A Special Empire Plan Report will be sent to all Plan enrollees soon. This report will also be posted to NYSHIP Online. (Brochure is titled NYSHIP JULY 1, 2023, Rate Changes)
Retirees will be able to change their plan option during a Special Option Transfer period scheduled for the month of June. (i.e., HMO to Empire or Empire to an HMO). Changes made during the June OT Period will not count against the once in a 12-month option change limitation. Civil Service will be sending a retiree rate flyer to those who live in NYS only, since out-of-state retirees don't have any other option than the Empire Plan.
Some of the changes:
Single Visit Copayment: • Elimination of copayment stacking; only one $25 copay for services in a single visit on the same day to a network provider will charged. • This includes visits to network Managed Physical Medicine Provider (physical therapist, chiropractor, occupational therapist).
No Copayment for Virtual Visits Using LiveHealth Online: • The Telemedicine Program, currently LiveHealth Online offered by Empire BlueCross, will be a permanent benefit at no-cost share/$0 copayment. • LiveHealth Online offers 24/7 access to board-certified doctors and behavioral health providers such as psychiatrists and licensed therapists. • To use LiveHealth Online, go to www.empireblue.com/nys • As a reminder, telehealth visits with a network provider are subject to the same copayment as in-person visits.
Empire Plan ID Card Re-Issue: • With the upcoming July 1 changes, benefit cards are scheduled to be re-issued. • The re-issue is to ensure compliance with federal regulations. • There will be no change to the plan enrollee's ID number. • Enrollees can use their new card immediately, there is no requirement to call The Empire Plan or to register the card.
Any questions should be referred to the Department of Civil Service:
(800) 833-4344 or  (518)457-5454
https://www.cs.ny.gov/employee-benefits
I also wanted to take this opportunity to thank all our retiree members who emailed, phoned, or wrote to legislators urging rejection of the budget items that would have negatively impacted retirees. Your participation helped to make our positions known and to stop the cuts that would have diminished our benefits.
For more information about benefits and resources available to you as a PEF retiree, please visit these pages:
If you have any questions, please don't hesitate to reach out at 800-342-4306, ext. 288.