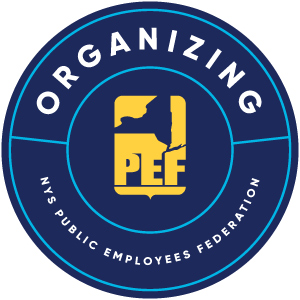 Organization is the key to our success.
The Organizing Department is charged with providing PEF's elected leaders, members and staff with the resources to enhance their knowledge, skills and abilities needed to implement the member mobilization initiative and advocate to protect and enhance members' rights and benefits.
HOW DO WE DO IT?
We accomplish these objectives by working with elected leaders to develop and deliver Mobilization training modules, and work with other departments, such as Field Services and Contract Administration to assist with the coordination of member mobilization activities. Providing training and work plan development to the PEF membership, elected leaders, and staff is critical to the development of an informed, active membership.
The department, working with other PEF departments, elected leaders, the international unions and consultants, designs programs and develops workplace activities tailored to the specific needs of the group. Our union based training programs incorporate real life issues experienced by PEF members on the job.
The department is charged with the implementation of the Member Mobilization Initiative. Staff works with the Council Leaders, Executive Board Representatives, Regional Coordinators and Field Representatives to implement Member Mobilization through such activities as charting the work place, agency and region; developing work plans and assisting with the coordination of fight back and other mobilization campaigns. Staff is also available to assist with the recruitment and activation of Member Mobilizers.