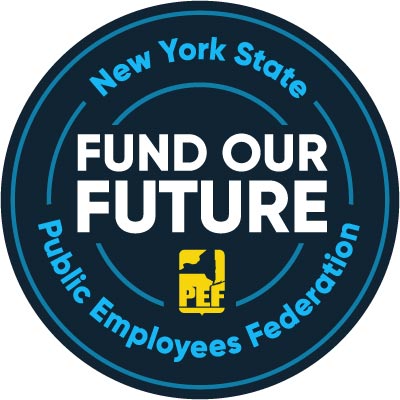 New York State Fund Our Future is a coalition of union and community leaders committed to making the case for reshaping government in our public interest. Although many of us have been champions of good government for decades, the COVID-19 pandemic brought new urgency to our efforts. Year after year, we've seen austerity-driven budget cuts and increasingly limited public services, while our tax obligations never seem to change much for the better. Instead of building a government in the interest of We the People, powerful private interests lobbied to receive more and pay less than their fair share. Fund Our Future is fed up and ready to fight back for the future all New Yorkers deserve. We are fighting for our freedom to thrive.
READ OUR DEMANDS
The NYS Public Employees Federation, in cooperation with our parent unions, the American Federation of Teachers (AFT) and the Service Employees International Union (SEIU), and other coalition partners, resolves to build a thriving New York based on these principles:
• A functioning democracy depends on the essential work of public employees, who deliver the services we all use every day — from public education, affordable healthcare, transportation, safe streets, green spaces, and so much more.
• Privatizing public goods such as social services runs contrary to the public interest in maintaining the common good
• People have a right to transparency regarding how their government funds services that benefit everyone
• Everyone must pay their fair share for public services
• We must safeguard our public investments by ensuring a strong system of public inspection and audits
New York thrives when we invest in public services that adhere to those principles. New York State Fund Our Future is a multi-year initiative dedicated to promoting the powerful role the public sector plays in society. The campaign will include member mobilization, training, and forceful actions and events. It will be integrated into legislative, contract, health and safety, and labor-management advocacy. NYS Fund Our Future will offer support to coalition members who wish to amplify our collective demands. We invite you to join the movement and help us demonstrate the power of a national Fund Our Future movement with the media, union members and policymakers.