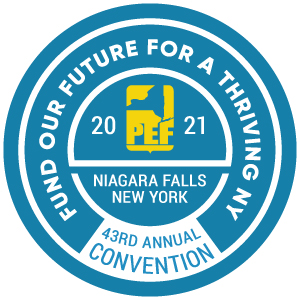 The 2021 Convention dates have been approved by the PEF Executive Board. It will take place from Oct. 24-27, 2021, in Niagara Falls, New York.
2021 Convention Registration
Registration for the 43rd Annual PEF Convention taking place Oct. 24-27. 2021, in Niagara Falls, N.Y. is now open for PEF Executive Board members.  In order to open the Cvent registration link, you must use one of the following web browsers:
• Google Chrome
• Mozilla Firefox
• Safari
• Microsoft Edge
If you try to open the registration link using Internet Explorer, it will not work.  You will receive a message that the browser is not supported.
Once you click on the link, your PEF MIN# is required to access the registration site.  If you do not know your MIN # please contact the PEF MIS Help Desk at mis_service@pef.org or call 800-342-4306, ext. 308.
Please click here to begin the registration process.  link to https://cvent.me/rqdLGE