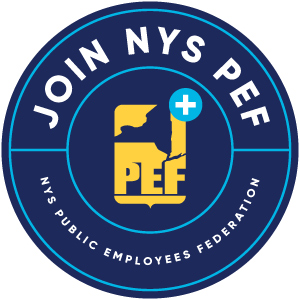 We are a diverse and powerful New York State labor union committed to creating a better life for our members.  If you believe in justice and equality, then a career in the labor movement may be right for you.  When working people come together, they make things better for everyone.  Unions enable workers to negotiate for higher wages and benefits and improve conditions in the workplace.  There are millions of union members in America from all walks of life and they have one thing in common: They know that by acting together, they can accomplish more than they can on their own.
At PEF, we represent the PS&T bargaining unit of New York State employees.  Our 50,000 members across the state work at more than 3,000 professional, scientific and technical jobs — from nurses to engineers to parole officers to attorneys — and from Buffalo to Long Island.  You can read more of PEF's history, here.  Our employees (PEF staff) work in various departments in collaboration with PEF's elected union leadership to serve members.  Some of our departments include: Communications, Education & Training, Field Services, Finance, Health & Safety, Legal, Legislative and Organizing.  Many of the professional and administrative staff who work at PEF are represented by their own union, the United Steelworkers, or USW.
If you're interested in joining our team, please view the job openings in the box on this page and follow the instructions to apply.  Thank you for your interest!