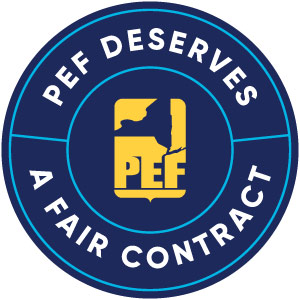 PEF has commenced negotiations for a successor contract to the 2019-2023 Collective Bargaining Agreement (CBA) with New York State.  The current CBA is in effect through April 1, 2023. Updates will be posted here following each bargaining session.
March 22, 2023 — The PEF Contract Team completed two days of negotiations with the State this week.  After our last sessions in February, we reported our disappointment that OER (Office of Employee Relations) had not yet put forward any full-language proposals.  They seemed to have gotten the message and OER has now put the majority of their proposals in full language proposals on the table.  The PEF Contract Team has also presented the majority of our full language proposals.  These of course include issues like Article 7 (Compensation), Telecommuting and Alternative Work Schedules, the Productivity Enhancement Program (PEP) program, the PEP Program for Teachers, and a variety of proposals to address recruitment and retention issues.  With both sides now having our proposals on the table, we are hopeful that we can move forward more expeditiously on the hard bargaining necessary to reach an agreement.
We also had positive negotiation sessions in February with Roswell Park and the School for the Deaf and the School for the Blind (Schools) with additional sessions scheduled for March 27 (Schools) and April 19 (Roswell).  We are encouraged that we have been able to have a much earlier start for these groups than has occurred in the past and we are also encouraged by the tone of the negotiations with both of these groups.  However, we still have work to do to get to agreement.
The next negotiating sessions for the PS&T unit are scheduled for April 13-14 and May 16-17
The PS&T Contract Team
Darlene Williams – Chair — Region 10
Scarlett Ahmed – DOL – Region 11
Vincent Cicatello – OMH – Region 1
Ricardo Cruz – PEF Staff
Conrad Davis – Tax & Finance – Region 11
Christopher Ford – ITS – Region 8
Debra Greenberg – PEF Staff
William Holthausen – Regional Coordinator – Region 12
Maureen Kozakiewicz – DMV – Region 8
Jeanette Santos – DOH – Region 8
Cynthia Walker – SUNY Downstate – Region 11
You can learn more about each member of the team in this Communicator story from Nov. 2022.  We will also include updates after each round of negotiations in The Communicator, so bookmark Communicator.PEF.org for the very latest each month.  Each issue is also sent directly to the personal email of PEF members.  If we don't have an email on file for you or if your email address has changed, please sign up here!