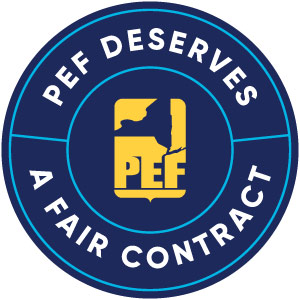 PEF is in negotiations for a successor contract to the 2019-2023 Collective Bargaining Agreement (CBA) with New York State.  The current CBA expired on April 1, 2023, but still governs the terms and conditions of employment for members in the State's Professional, Scientific & Technical unit. Some provisions of that agreement, however, have ended. Please read this story for specifics. Negotiations are taking place between PEF and the State each month and updates will be posted here following each bargaining session.
May 22 2023 — PEF held a contract negotiation session this month on May 16 with the New York State Office of Employee Relations (OER). The union was very disappointed that OER was not receptive to union proposals such as a four-year contract, immediate implementation of Paid Parental Leave, and improved compensation to acknowledge the costs of higher education degrees required for the "professional, scientific and technical" jobs held by PEF members.
At this point in the negotiations, OER appears to be tone deaf when it comes to Gov. Hochul's stated priorities. PEF maintains it is impossible to make New York State an employer of choice for the next generation if concrete steps are not taken to address the fact that New York is losing more State employees each month than can be replaced under the existing salary and benefit structure.  We are continuing to meet with the State on non-economic items and are planning a contract rally for June 7 in Albany to get our message across to OER regarding economic items.
Contract team:
Darlene Williams — Chair — Region 10
Scarlett Ahmed – DOL – Region 11
Vincent Cicatello – OMH – Region 1
Ricardo Cruz — PEF Staff
Conrad Davis – Tax & Finance – Region 11
Christopher Ford — ITS – Region 8
Debra Greenberg — PEF Staff
William Holthausen – PEF Executive Board – Region 12
Maureen Kozakiewicz – DMV – Region 8
Jeanette Santos – DOH – Region 8
Cynthia Walker – SUNY Downstate – Region 11
You can learn more about each member of the team in this Communicator story from Nov. 2022.  We will also include updates after each round of negotiations in The Communicator, so bookmark Communicator.PEF.org for the very latest each month.  Each issue is also sent directly to the personal email of PEF members.  If we don't have an email on file for you or if your email address has changed, please sign up here!