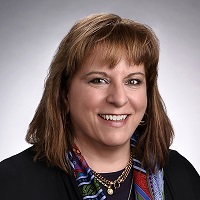 As Secretary-Treasurer, Kay Wilkie is dedicating her expertise in financial and grants management, procurement, strategic planning, negotiation, and communications to benefit PEF and its membership, ensuring that members' dues are spent effectively and ethically. At a time when PEF and all unions face unprecedented threats to our continued survival, she is committed to being part of the solution.
Through teamwork with President Spence, Trustees, other statewide officers, the Executive Board, and other PEF leaders and volunteers throughout NYS, S-T Wilkie is managing and implementing crucial financial, budgetary, procurement, property and records management policies. Her efforts will serve to restore PEF's reputation for excellence, secure our future, and reinforce our strategic national and global leadership in unionism.
Active in PEF since 1991, some of S-T Wilkie's service and career highlights include: co-led successful merger fightbacks for the Department of Economic Development (DED) in 1997 and 2008, being Steward, Assistant Council Leader, Council Leader, Statewide LM Chair and member, PAC member, Executive Board representative, mentoring upcoming leaders, Trustee of PEF Membership Benefit Program/Public Employees Benefits Fund, Anti-Privatization Committee and PEF Pride Committee member and Real Estate Facilities Special Committee Chair. She completed SEIU Finance Conference training 9/18-19/17.
During her career at DED, Kay was an Economic Development Program Administrator I in DED Finance & Administration, and prior to 2015, was a Program Research Specialist IV/ Director for International Policy. Prior to DED, she was a Senior Budget Analyst in the NYS Assembly Ways & Means Committee, managed a not-for-profit, Helpline, a 24/7 information, referral and crisis hotline, and was an Assistant Vice President in the International Division of Mellon Bank, working in Europe and Latin America. Kay's education includes an M.A. in International Economics/ European Politics from Johns Hopkins School of Advanced International Studies (including studies in Bologna, Italy) and a B.A. Phi Beta Kappa in Anthropology and French from SUNY Albany (including a year at the Université de Nice in France). Community volunteer work has included serving as Board Chair of the International Center of the Capital Region, Old Songs Inc., and leading the local chapter of Amnesty International. Kay is an amateur folk singer and musician.