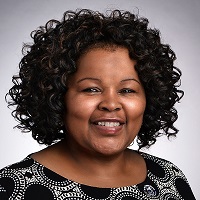 has worked as a Disability Analyst 2 at OTDA for the past 16 years. She worked in OCFS at the State Central Register for 9 ½ years and 1 year as a Daycare Licensor in Essex County. Maddie holds a Master's Degree in Public Administration, Bachelor's Degree in Social Work, and a Certificate in Ministry from Northeast Seminary.
Maddie has been a stellar custodian of her office. She takes her fiduciary responsibilities seriously. She is an independent vanguard for PEF members, ensuring that all PEF policies and rules are adhered to and that fiscal discipline, sound judgment, and compliance are exercised at all times.
She has proactively served PEF members through internal control monitoring of fiscal records, review of policies, and reporting timely to the Executive Board, PEF Officers, and the PEF Annual Convention Delegates.
During her three-year tenure, she worked tirelessly with her fellow Trustees and the Internal Auditor to provide policy recommendations to officers and the Board on specific matters. As a member of PEF Financial Compliance Committee, she assisted in developing purchase card application policies. Maddie honed her skills at investigating fiscal complaints and providing recommendations to the appropriate officer.
Maddie attended the SEIU finance training in 2017 in preparation for a post-Janus decision. She is confident that she is tested, experienced and ready to continue serving PEF members with the highest ethical and professional standards. Thus, she respectfully asks to be your Trustee for another term.