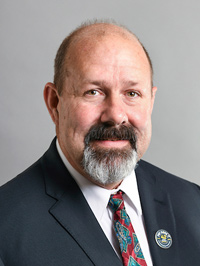 Bruce Giddings is well versed in keeping members informed about essential union matters and will continue to do so as PEF trustee.
"I plan to keep the entire membership fully informed about any union activities I perceive are contrary to their best interest," Giddings said. "I will work collaboratively with fellow trustees, the secretary-treasurer, and internal and external auditors to ascertain sound custodial practices, equity, fairness and the implementation of Convention resolutions."
Originally hired as a principle drafting tech, Giddings is now an assistant electrical engineer at the New York State Department of Environmental Conservation. His work has taken him from Port Jefferson, Long Island, to Love Canal in Buffalo, to Plattsburgh and Cape Vincent in the north.
"I have mostly enjoyed designing recreation projects and  fish and wildlife projects in the Adirondacks and Catskill parks," Giddings said. "Serving the public with new and renovated facilities motivates me."
Giddings joined PEF in March 1988. Seventeen years ago, he became a Steward in Division 169 and then became Treasurer. He has held an Executive Board seat for three years and served as Civil Service Committee co-chair; on labor/management and health and safety committees; and on the AFT Climate Task Force, AFT Greening Schools, and Workplaces Committee.
During the COVID pandemic, he provided members with information for telecommuting and ensured oversight of agency health and safety mandated guidelines and protocol. As trustee, he intends to maintain trustee independence consistent with his core values of integrity, fairness and the ability to listen.
"It offers me new challenges, which inspires me to better serve the members I have represented and the new members I have yet to serve," he said. "I feel that my independence can help strengthen the mission and forward direction of our union."
Being a union leader has been rewarding, Giddings said.
"There are many moments I am proud of while working with my agency and union," he said. "I am proud of the continued years of service I offer to my colleagues and PEF brothers and sisters. I am proud to know that I have helped inform and direct members so they may proceed forward with better and useful knowledge.
"But most of all, I am proud to be an example to my three sons," Giddings said. "Showing them the helpful service I provide to members, I hope they follow in their father's footsteps. Love and support from family and friends feeds my pride."
Giddings is a graduate of Hudson Valley Community College, attended the University of Wisconsin-Madison, and is active in his community, where he is a Deacon in his church.