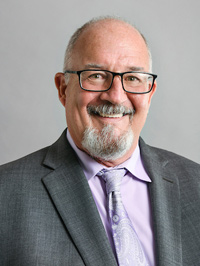 Joseph Donahue is a senior administrative analyst at the NYS Department of Taxation and Finance, where he has worked for more than 20 years.  As secretary-treasurer, Joe is focused on the sound management of PEF financial resources, transparency, compliance with all pertinent laws and regulations, and accountability to PEF members. He works to position PEF for future challenges through collaborative strategic planning and decision making with PEF's president, vice presidents, Executive-Board, trustees and PEF staff, and by implementing PEF convention resolutions.
As PEF secretary-treasurer, Joe continues his lifelong commitment to protecting members' rights in the face of an anti-labor environment, increasing the union's membership and actively communicating and advocating the rights and privileges of union membership to all PEF members.
Prior to his election as PEF secretary-treasurer in 2021, Joe was a member of the PEF Budget Advisory and Financial Compliance Committee, chaired the PEF Divisions Committee, and was a trustee of the PEF Membership Benefits Plan.  He holds an A.S. degree in accounting from Hudson Valley Community College.
Joe was council leader of PEF Division 190 with 1,700 members for 11 years and was a division steward for 18 years.  He represented the division members on the PEF Executive Board for 12 years. He was also the PEF labor-management co-chair at the Department of Taxation and Finance, and has been a delegate to PEF conventions for many years.