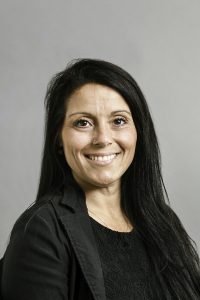 Danielle Bridger is a Region 8 native, born in Troy, N.Y., and a resident of the Capital District her entire life. As a graduate of Lansingburgh High School, Bridger went on to receive a Bachelor of  Science degree in Accounting and an MBA with a Concentration in Finance.
A PEF member since January 2013, Bridger believes every members' individual rights are just as important as the next and she fights hard for every person in her region.
"I am proud to be your Regional Coordinator," she said. "I believe that you can only truly succeed when you are able to help others succeed."
Bridger became a union steward in the Office of the State Comptroller in April 2017 and joined the Executive Board in April 2019. She also served as secretary of Division 263.
Her job as an auditor in the Bureau of State Expenditures under the Office of Operations affords her the opportunity to work on all types of audits and she enjoys her role as a public servant.
"I love being a public servant because I am able to see not only where my tax dollars are being spent, but also those of all of the constituents in the state," she said. "I am then able to audit those tax dollars and ensure that they are being used properly to ensure public trust and integrity is maintained."
She brings a fresh point of view to the Region 8 Coordinator position with her auditing background.
"I have a keen sense of structure and a driven desire to put the needs of members first," she said. "That builds a foundation for a long-lasting platform to support leaders in this role for years to come."
Her goal going forward is "to become a great leader in the union, who is able to influence, inspire and motivate a future full of leaders who will continue our work for generations to come. I am truly honored and grateful to be part of the PEF family."
Region 8 – Albany
Regional Coordinator
Danielle Bridger
1168-70 Troy-Schenectady Rd.
PO Box 12414
Albany, NY 12212-2414
(800) 342-4306, (518) 785-1900
FAX (518) 785-1814