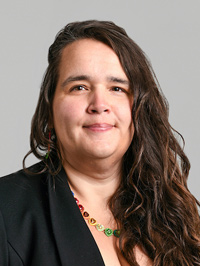 As the new Region 7 coordinator, Barbara Stransky plans to increase member engagement efforts, improve communication and ensure that the Region is represented at the executive level.
A PEF member since 2006, Stransky began participating as a union leader in 2018, when she became a steward for Division 242 at her local OPWDD office. As a habilitation specialist in OPWDD IRA group homes, she spends her days helping individuals with intellectual disabilities.
"I encourage people to live their lives to their highest potential," Stransky said.
She says Region 7, the most northern region in the state, needs strong representation.
"I am part of a younger generation that needs to take a more active role in the union," she said. "I will be a strong representative for our large region. I want to bring Region 7 together as one strong region and ensure positive communication with Region 7 members."
She already got the ball rolling on member engagement and communication.
"I have participated and assisted in the planning of many member engagement events within my local division as well as the region," Stransky said. "I have been an active convention delegate. During the start of the COVID-19 pandemic, with the blessings of the previous Regional Coordinator, I created a Region 7 PEF Unofficial Facebook page. This page was critical for disbursing information to the membership as soon as possible. With this, I also made many connections with fellow Division leaders."
Region 7 – Potsdam
Regional Coordinator
Barbara Stransky
59 Lawrence Ave.
Potsdam, NY 13676
(888) 498-8532, (315) 261-4464
FAX (315) 261-4229