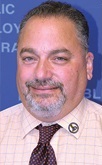 David Dubofsky, a former PEF Executive Board member and council leader at the state Insurance Fund in Binghamton, was aware of union apathy and dissatisfaction and decided to make a difference by taking over the helm in PEF Region 5.
"I heard the concerns of members and I knew I needed to get involved," Dubofsky said. "We face a declining membership, aging workforce, lack of hiring and the contract battle."
Within a few months of his leadership, Dubofsky initiated ways to stimulate union interest. One example is the revitalization of the region's Political Action Committee.
"Our PAC is up and running and we are diligently working toward nurturing political influence with our local representatives. It is re-innovated, proud and loud. We got involved with a local race and the candidate won with just over 60 votes.
It was PEF's efforts that helped push him over the top. I am letting other local politicians know the union has its feet on the ground, and it can help their campaigns and push for legislation that benefits labor," Dubofsky said.
Other committees also are breathing new life, such as Budget and Audit, and new chairs for the Women's and Veterans Committees.
"We are trying to recruit more members for these committees, and I am getting involved with local divisions that don't have leadership, and to get them back onboard."
Those would include a portion of the approximately 1,700 members who work in almost every state agency, with the exception of a correctional facility. The six-county region includes Broome, Chenango, Delaware, Otsego, Tioga and Tompkins.
To reach more members and get their interest, Dubofsky has created a regional newsletter. And he is raffling an iPad to members willing to share their home email address.
"I want to expand our database, so members can be alerted to important union-related information," Dubofsky said. "What I hope to accomplish most is help to bring full unity within PEF."
Region 5 – Binghamton
Regional Coordinator
David Dubofsky
305 Vestal Parkway West
Vestal, NY 13850
(800) 724-4998, (607) 785-1699
FAX (607) 786-5749