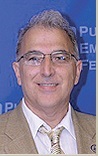 Political activism is on the top of the list for PEF Region 2 Coordinator Andrew Puleo. One of his goals is for the 650 members he represents to be more politically savvy, aware of the issues streaming from the state Capitol, and to not only know their legislators, but to be comfortable contacting them.
"It's important for PEF Region 2 to have an astute Political Action Committee (PAC). I'm looking for long-term commitment among members who realize the necessity to unite in order to secure our benefits," Puleo said. "I want to coordinate a strong regional PAC, a team driven with purpose, and has their legislators on speed dial."
To accomplish this, Puleo said he will meet with members, talk to them on a one-to-one basis, promoting PEF's state and federal agenda and listening to their issues.
Puleo, a civil engineer 1 for 15 years with the state Department of Transportation, said another goal is to re-build the PEF divisions at the facilities where members work in Allegany, Steuben, Yates, Schuyler and Chemung counties.
"Building coalitions is a natural process for me. It takes a lot of interpersonal communication skills in order to build confidence and respect between people. It is important to gain the trust and confidence of my members," Puleo said.
To achieve fully-implemented divisions, Puleo recently sent regionwide emails to his stewards and council leaders to help launch a plan to ignite greater union participation. This plan includes fully funding all divisions, and ensuring each division has an empowered labor-management team.
"My mission is PEF's mission. I have always been pro-labor and believe in organized labor's goals of securing and promoting economic, social and political equality for our members," Puleo said. "Mostly, with the support of Region 2 members and PEF staff, we can pave a new political path within the union that will benefit the national labor movement and all PEF members."
Region 2 – Hornell
Regional Coordinator
Andrew Puleo
40 Main St.
Hornell, NY 14843-1538
(800) 724-5001, (607) 324-6060
FAX (607) 324-3611