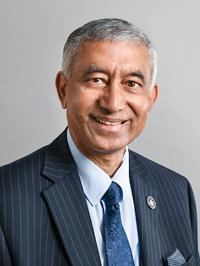 Addressing issues in the workplace is one of Radhakrishna Mohan's top priorities as Region 10 Coordinator.
"I thought it is time to assume more responsibility to serve our members," said Mohan, who has been a PEF member for more than 26 years. "It gives me a great zeal of enthusiasm to serve members, to help them in any way to address their issues."
Mohan served as a steward, council leader, Executive Board member, co-chair of the Political Action Committee, current Chair of the Article 13 Worker Compensation Committee and, most recently, interim Regional Coordinator.
He also served on PEF's Statewide IT Committee, a position he is uniquely suited for as an information technology specialist at the State Insurance Fund. He is also founding member and president of PEF's Indo-American Committee.
With his experience on local community board, the Police Precinct Council, and board of non-profit organizations, Mohan wants to increase membership engagement and organize events. He is ready to take the reins of Regional Coordinator, having held different responsibilities over the years, attending all PEF Conventions since 2000 and attending four SEIU International conventions.
At the State Insurance Fund, Mohan worked on development of an agency telecommuting policy – a fight that continues today; advocated for cancer screening time off for women equivalent to the four hours afforded to men; and continues work on making sure fellow IT PEF members are fairly compensated for extra time worked.
"When I see something is not right, I would like to address that and find the best solution for those situations," he said.
NYC Regional Office – Region 10
Region 10 Coordinator
Mohan Radhakrishna
100 William Street, Suite 1700
New York, NY 10038
(800) 522-8700, (212) 227-3132
(866) 897-9775, (718) 637-2019
FAX (212) 964-3571
FAX (718) 637-2024