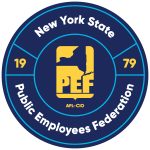 PEF exists to promote the welfare of its members with respect to all terms and conditions of employment and will achieve this through:
Negotiating a good contract that reflects the higher wages, better working conditions and improved retirement benefits our members deserve.
A campaign to draw attention to the quality services PEF members provide to the citizens of New York State and to counter costly privatization that often results in diminished and inferior services.
A member engagement campaign that will reinvigorate the membership in the face of outside threats like the JANUS decision and will be a call to action to address issues like privatization, civil service abuse, staff shortages, hostile work environments and legislative lobbying.