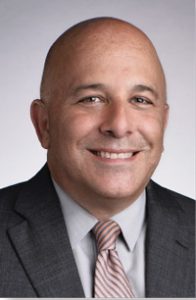 Todd M. Kerner became the Executive Director of the New York State Public Employees Federation in August 2015. Previously, he spent 21 years as an attorney with the New York State Department of Taxation and Finance and six years as an attorney in private practice. He has an L.L.M in Taxation from New York University School of Law, a J.D. from Albany Law School, and a B.S. in Economics from the University of Illinois.
As an attorney with New York State, Kerner specialized in tax matters where he drafted tax legislation, interpreted state tax laws, and represented the State in administrative tax hearings. During that time, he was very active in PEF and held numerous leadership positions, including: executive board member; PEF health benefits committee chair; PEF contract team member; statewide department labor management co-chair; statewide department health and safety chair; and chief shop steward.
Kerner is also politically active; he has been the Saratoga County Democratic Committee chair since 2011 and is a member of the NYS Democratic Committee. He was also active for many years with the Shenendehowa School District PTA, and was recognized for his service as a recipient of the National PTA Honorary Life Membership. He was also active with youth hockey and lacrosse programs in Clifton Park.