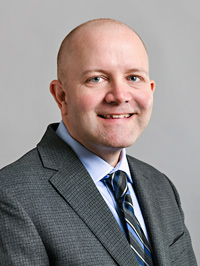 Rob Merrill joined the Public Employees Federation in September 2020. He brings to the Communications Department more than two decades of experience in television, digital media production and content creation. Prior to joining PEF, Merrill spent four years at the University at Albany, part of a team responsible for broadcasting or streaming all home sporting events.
Before that, Merrill worked for nearly a decade at The Associated Press in New York, helping lead the world's oldest news organization during its transition to digital content creation and delivery. Merrill managed a team of 14 producers and videographers gathering entertainment video news across the country. He served as the network pool producer for live coverage of Whitney Houston's funeral in 2012 and executive producer of the AP's live red carpet coverage at the Grammys and Oscars from 2009-2016.
Before having fun with entertainment journalism, Merrill covered hard news in the broadcast industry for 10 years — from market 198 (Cheyenne, Wyoming) to the nation's capital. He was instrumental behind the creation of the first network evening news blog, The Daily Nightly, and traveled often to New Orleans with NBC Nightly News to produce multimedia content after Hurricane Katrina.
Merrill grew up in Region 4 (Rodman, N.Y.), and earned his Bachelor of Arts at Middlebury College in Vermont. He now lives in Niskayuna with his wife, two children, a dog named Yeager and a cat named Mittens.