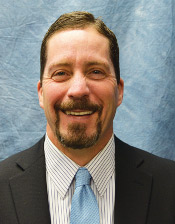 Patrick brings almost 30 years of legislative and organizational administration experience to PEF. Patrick began his legislative career as an intern in the Office of Assemblyman John G. A. O'Neil. He then served as a senior editorial aide at the bi-partisan Legislative Bill Drafting Commission where he reviewed and drafted legislation and supporting memoranda.
In 1996, Patrick accepted a position as a Legislative Representative at the New York State United Teachers and rose to the position of Senior Legislative Representative. In this role, Patrick represented union members before the NYS Legislature and the Executive and drafted various bills that were ultimately enacted into law. Patrick played a key role on the NYS AFL-CIO Pension Task Force in support of the groundbreaking pension reform legislation in 2000 where he took a lead role in the drafting of and lobbying for the tier equity package and the Permanent COLA law.
In 2009, he accepted a position as the Assistant to the NYSUT President where he helped oversee the union's election and governance operations and as a liaison to the board of directors, local leaders and the organization's national affiliates – the AFT and NEA. Patrick served in this role through several administrations until 2017 when he accepted a position as Director of Constituency Programs and Services. In that role, Patrick spearheaded NYSUT's nationally recognized Local Action Project, Leadership Institute and staff training programs and served as the project coordinator for NYSUT's Annual Representative Assembly. Additionally, Patrick served as the primary staff liaison to NYSUT's various constituent groups and internal working committees and served as the project coordinator for NYSUT's annual health and safety, school-related professionals, health care professionals, new local presidents, and higher education conferences.
Patrick is the proud product of New York's public schools. Patrick graduated from the Albany public school system and has a B.A. in Political Science from Plattsburgh State University (1991) and a M.A. in Political Science from the Rockefeller Institute of Government at Albany State University (2001). Patrick is married to Rebecca Popp-Lyons, who he met while lobbying at the State Capitol, and is the proud parent of three children – Condon, Seamus and Margaret – all of whom attend public schools in Saratoga county. Patrick previously served as the chair for the United Way of the Greater Capital Region and he currently serves as the chair of the Clifton Park Democratic committee and as a level 3 assistant coach for the Clifton Park Youth Hockey program.