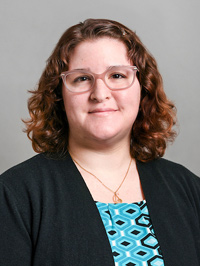 Katherine (Katie) Vorwald has been with the Public Employees Federation since May 2011. In March 2019 she was appointed as the Regional Director of Field Services/ Organizing for PEF Regions 7, 8 and 9. Prior to her appointment, she was an Associate Attorney in the Office of General Counsel. In addition, she was the Law Clerk in Counsel's Office from 2007 through 2009.
Katie also served as the Vice President of United Steelworkers Local 9265, the union representing PEF Staff. Other than a brief stint in private practice, Katie's entire career has been with PEF.
Katie was admitted to the New York State Bar in 2010. She holds a Juris Doctorate from Albany Law School and a Bachelor's Degree in Politics from SUNY Potsdam. Katie resides in Columbia County with her family.