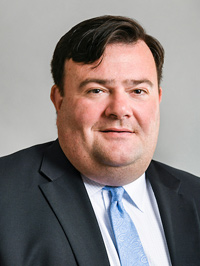 John D. Svare was appointed as PEF's Deputy General Counsel in March 2019, having served as an Associate Counsel with PEF's Office of General Counsel since 2014.
Prior to joining PEF, from 2010-2014, John worked as an Associate Counsel for the New York State Assembly's Office of Program and Counsel. In his role as counsel to the Committees on Labor and Racing and Wagering, John drafted and negotiated legislation; advised Members of the Assembly on budgetary and policy proposals; and worked closely with the respective Committee Chairs in analyzing the Executive Budget. Upon graduating from law school in 2004, John began his legal career as an Associate Attorney with the law firm of Bartlett, Pontiff, Stewart & Rhodes, P.C., and he primarily represented individuals in criminal, family, and civil litigation. In addition to his legal experience, John has served in a variety of roles in politics and government, including Deputy District Representative for the late former Congressman Maurice D. Hinchey.
John earned a B.A. in Political Science cum laude from Marist College in 1999 and a J.D. from Albany Law School of Union University in 2004. He is admitted to the Bar of New York State, Northern, Southern, and Eastern Federal Districts of New York. John is married to Heather Svare and they have two children, Abigail and Luke.