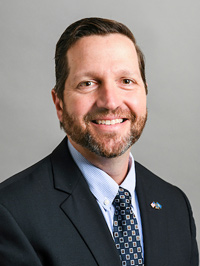 Joe Cocci became the Director of Information Systems department in January of 2013. Joe began his career with the Public Employees Federation (PEF) in 2001. Prior to becoming Director Joe worked as a Programmer/Analyst for PEF Membership Benefits Program and a Systems Analyst for PEF.
Joe's technological career began as a work/study network technician at the University at Albany where he earned his bachelor's degree in Information Science. In addition to his degree Joe is a certified Information Systems Security Professional (CISSP). CISSP is often referred to as the gold standard of the professional information security certifications.
With a professional technical career that spans almost two decades Joe has worked with and continues to improve all aspects of Information Technology for the Public Employees Federation and PEF Membership Benefits Program.
Outside of PEF Joe is a proud family man and is active as a coach and manager for youth sports and a technical advisor, contributor, and web master for local community causes.