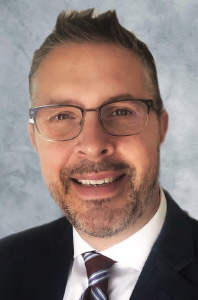 Eric Kwasniewski has been with the Public Employees Federation since August 2007. In January 2020, he was appointed to Regional Director of Field Services for PEF Regions 1, 2, 3, 5 and 6. Prior to this appointment, he spent nearly 10 years as an Attorney/Associate Counsel in PEF's Office of General Counsel and, thereafter, nearly three years as an Attorney/Associate Counsel in PEF's Contract Administration Department.
Eric has a long history of representing and advocating on behalf of labor. Prior to joining PEF, Eric practiced labor side law in Buffalo, N.Y., for the NYC-based firm Gorlick, Kravitz & Listhaus PC. In that role, Eric represented LIUNA locals in the enforcement of multi-employer benefit fund agreements pursuant to ERISA. Eric earned his J.D. with a concentration in Labor and Employment Law from the University at Buffalo School of Law and a B.S. in Economics/Management Science from SUNY Cortland. He is admitted to practice law in the New York State Supreme Court 4th Department Appellate Division, United States District Court for the Western District, Northern District and Eastern District of New York.
In his spare time, Eric enjoys sports of all kinds including bettering his golf game, taking in his kids' competitive baseball games, volunteering his time coaching youth football and cheering on the Nebraska Cornhuskers. Eric resides in Buffalo, N.Y. and Oakville, Ontario with his wife Tammy, his two stepsons Devan and Jaxon, and their dog Cosmo.