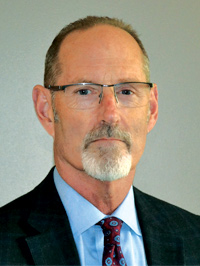 Edward J. Greene Jr. joined the Public Employees Federation as its General Counsel in April 2021. Ed came to PEF with more than 20 years of legal experience representing exclusively unions and working people. He was born into and raised in a union household and, for most of his adult life, Ed has either been a union member or union advocate.
Ed came to PEF from NYSUT, where he spent more than five years representing NYSUT, its locals and members as an associate counsel in NYSUT's Office of General Counsel. Prior to NYSUT, he was in private practice as a founding partner of the law firm of Sheehan, Greene, Golderman and Jacques, LLP and as a principal and chair of the labor and employment department at Hinman Straub P.C.
Throughout his career, Ed has represented unions and their members in contract negotiations, arbitration, and administrative proceedings, as well as in litigation in state and federal trial and appellate courts. He has provided advice, counsel and training to union leaders, committees and members regarding organizational issues, business matters, compliance and legislative matters. Ed is also a frequent speaker and trainer on issues related to public sector labor and employment and has been a contributing editor to the third and fourth editions of the New York State Bar Association treatise Lefkowitz on Public Sector Labor and Employment Law.
Ed received his Juris Doctor degree with a concentration in Labor and Employment Law from Albany Law School, where he also served as an associate editor on the Albany Law Review. He received a Master of Science in Education and a Bachelor of Science in Special Education from the State University of New York at Plattsburgh.