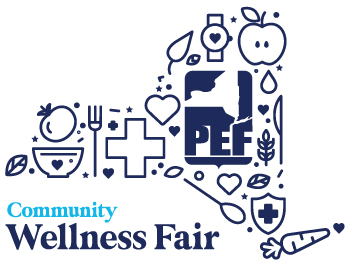 PEF is seeking community partners to participate in our upcoming Health & Wellness Fair.  The goal of the event is to connect and service our local communities, and to provide awareness of the public services that are available to assist them in their daily lives.  The Health & Wellness Fair takes place:
Saturday, April 29, 2023, from 9 AM–3 PM
Washington Avenue Armory
195 Washington Ave., Albany, N.Y. 12210
The event is free and open to the public.  We expect individuals from every facet of the community—individuals who are anxious to learn what is offered in the Capital District and who to turn to for their short- and long-term health and wellness needs.
The day's activities include:
Vendor tables
Four 45-minute informational workshops–available on a first come, first serve basis and at no cost
Entertainment throughout the day (to take place on the main stage) – sponsorship opportunities are available
A low-cost concession stand that will be open to the public
If you're interested in showcasing your resources and programs, please get in touch!  We are asking for a nominal fee of $50 to help us cover the cost of your table set up.  Exhibitors will be provided one table and two chairs.  There will be limited electrical and internet access. You will be allowed two (2) representatives to attend at no additional cost. Your agency/company will be listed in our Health & Wellness program, and you will have access to hundreds of local community members hungry for information on how to best ensure the well-being of themselves and their families.
We strongly encourage you to donate a door prize, however big or small, to be entered into a raffle.  Please provide any educational information (i.e., flyers, brochures, free samples, and even items for purchase) on your products and services that you feel would be of value.
We expect to accommodate at least 50 exhibitors/vendors, and we hope your agency/company will be one of them.  Space is reserved on a first-come, first-serve basis.  Just click the Reservation button below to download a fillable PDF that you can email or mail back to us!  Once we receive your reservation form, you will receive information and instructions on how to pay for your table and additional details about the day's event such as set-up and breakdown time, parking, and more.
Thank you for your commitment to, and support of our local community. We look forward to working with you!
Reservation Form