Contact: PEF Communications Director Rob Merrill, rmerrill@pef.org
Eric Adams for Mayor, Evan Thies, 917 715 9265 or evan@pythiapublic.com
New York, NY — Citing his dedication to working people and his vision for New York City, PEF endorsed Brooklyn Borough President Eric Adams in his run for mayor of New York today.
"Eric Adams has been a public servant working hard on behalf of New Yorkers for decades. No one has a stronger record of standing up for working people or a clearer plan for their success than Eric," said PEF President Wayne Spence. "When the first coronavirus surge hit the city last spring, Eric was by my side helping distribute PPE and food to PEF members in need. When others fled the city, Eric led, embodying the ideal of a true public servant. PEF could not be more excited to endorse Eric to be our next mayor. We are with Eric now because he has always been there for us."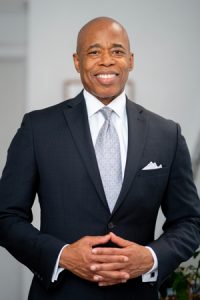 "New York doesn't work without PEF — and I am so proud that they share my vision to make New York work better," Adams said. "Public employees dedicate their lives to supporting the rest of us, and so they deserve our support as essential workers, especially now as they stand on the front line of the fight against COVID-19 and the economic crisis it has created. It is not enough to thank them — we must also provide them with the hazard pay and other benefits they need and deserve to keep New York running strong at this critical moment. As mayor, I will always invest in New Yorkers and stand up for working people by putting the full force of City Hall behind them."Spence also pointed to Adams' support in 2012 and 2013 during the fight to save SUNY Downstate hospital, as well as his agenda for working people, including a plan to put more money directly into their pockets by boosting the city's Earned Income Tax Credit, and other public benefits such as rent vouchers for tenants. You can read the agenda here.
Adams, a former NYPD officer, was endorsed by 50 prominent Latino leaders last week and more than 200 clergy this week. He has also been endorsed by a diverse group of local elected officials and leaders, including Bronx Deputy Borough President and longtime Assembly Member Aurelia Greene, Sen. Roxanne Persaud, Assembly Members Jaime WIlliams and Erik Dilan, and Council Members Alicka Ampry-Samuel, Laurie Cumbo, Darma Diaz, Daneek Miller and Ydanis Rodriguez.