On opening day of the New York State Fair August 23, PEF members were ready and waiting at state agency booths with giveaways and, more importantly, information for fairgoers.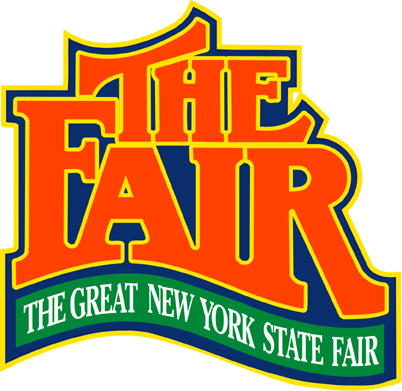 From the Office for People With Developmental Disabilities, to Parks, Recreation, and Historic Preservation, to the Department of Environmental Conservation and many more, members shared with the public what their agencies do for New Yorkers. 
At an OPWDD booth in one building, a table was covered in colorful sticky notes and a PEF member instructed fairgoers to look at large photos of people with disabilities and pick one word to describe what they felt when looking at those photos. 
Answers ranged from "Happy" to "Friend" to "Strong" and were a visual way to portray part of the agency's mission. 
At a Department of Transportation booth, a large crosswalk sign, complete with a functioning "walk" button, sat in the middle of a fair building – a blinking beacon to the booth where PEF members shared information about upcoming walking path projects and fielded questions about the Interstate 690 and Interstate 787 improvement projects. 
Manning a desk in the DEC Aquarium building, PEF members urged the public to subscribe to DEC's "The Conservationist" publication and be entered into a giveaway to win a lifetime hunting or fishing license. 
As PEF staff introduced themselves to members at various booths and welcomed them at the PEF booth in the Center of Progress building, some members expressed gratitude for the recently ratified PS&T contract and had questions about when to expect retros and ratification bonuses, while others were interested in joining union leadership ranks. 
Wherever they were stationed at the fairgrounds, PEF members were front and center among vendors and the numerous agency booths highlighted how integral state services are to the people of New York. 
"Our members are the backbone of state services and their involvement in the New York State Fair only solidifies that in the eyes of New Yorkers," said President Wayne Spence. "These services are vital to so many people and sharing information about accessing them is crucial." 
Investing in the fair's future 
At the Expo Center, Gov. Kathy Hochul held a press conference on opening day to celebrate the fair and announce new initiatives in the coming years. 
"The Great New York State Fair is an incredible opportunity to celebrate our farmers, products, culture, and diversity," Hochul said. "New York's farmers and agricultural industry are essential to our identity, and I encourage New Yorkers and visitors alike to make the trip to this wonderful tradition and celebrate the Empire State's bountiful treasures." 
In line with the Taste NY program, Hochul said the state is working to increase local food at the fair. 
She is directing state agencies to increase the percentage of food sourced from New York farmers and producers to 30% of their total purchases within five years.  
Hochul also signed legislation to bring together students at the fair to develop innovative agricultural technologies as well as legislation to support smaller and newer fairs across the state while promoting youth involvement in agriculture and domestic arts. 
"Agriculture is the backbone of our state, and our state's fairs are the perfect way of showcasing that – that's why we're taking major steps to support both our farmers and our fairs," she said. "By increasing the amount of food State agencies must buy from local growers and producers, we are further investing in farm production and food processing in New York. We will continue taking bold action to support our next generation of farmers and the future of our agricultural industry for decades to come." 
Read more! 
PEF members are involved in the logistics of the New York State Fair each year, including booking talent like this year's Ludacris, Quiet Riot, and Salt 'n Pepa, among others. 
It's a full-time job and they are already beginning plans for the 2024 fair! 
You can read about their work here.