June 13, 2023 — Governor Kathy Hochul invited members of PEF, UUP and CSEA to an event at the Albany Labor Temple to celebrate the expansion of Paid Parental Leave to public sector workers.  
The 2023-2026 PS&T Tentative Agreement with New York State contains 12 weeks of leave for new parents who have a baby, adopt or foster a child.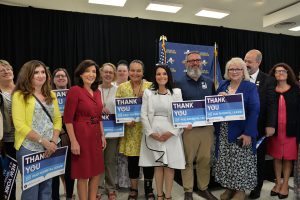 At the event, PEF Region 8 Coordinator Danielle Bridger spoke about the importance of the benefit. 
"We just voted to send our contract, 93-1, at Executive Board, out to our membership for ratification," Bridger said. "Once this gets ratified, our members are going to get 12 weeks of fully paid parental leave and they don't have to pay for it." 
Bridger put Paid Parental Leave in historical context as one more way in which New York State respects and honors women – from holding the first women's rights convention in Seneca Falls in 1848, to electing Gov. Hochul as the first female governor in State history. 
"I really do appreciate everything that Governor Hochul has done and on behalf of the 50,000 members of the Public Employees Federation and the 18,000 members that I represent here in the capital district, we thank you," Bridger said. 
Governor Hochul told supporters that the 12 weeks of leave is as much for new mothers as it is for new fathers.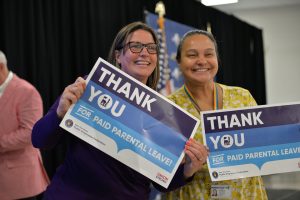 "This leave covers fathers and mothers, and we want to make sure that we break down the stigma or any barriers to men feeling that they cannot take the time to be with their child, because they will never regret a moment of it," Governor Hochul said.  
To highlight the importance of fathers getting the support they need, and to bring awareness to Paid Family Leave for state employees, the Department of Labor is launching a Paternity Leave Awareness Campaign.  
A video shown to the members of the audience referenced statistics that showed that 72% of fathers take two weeks or fewer of parental leave, highlighting the need for fathers to have more time with their children to bond and help their partner.  
The 2023-2026 PEF Tentative Agreement, including Paid Parental Leave, will be considered and voted on by PEF members next month. Ballots will be mailed July 5.