PEF members, retirees and other disabilities services organizations joined State Sen. John Mannion (D-50th District) on September 14 outside the State Capitol for a rally to spotlight the lack of adequate funding, services and staff at the Office for People With Developmental Disabilities (OPWDD).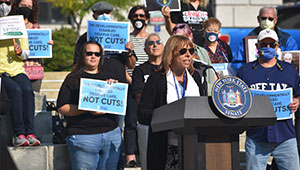 A 25-year veteran of OPWDD, PEF Vice President Randi DiAntonio spoke for the 3,500 treatment specialists and dedicated professionals represented by PEF.
"We are outraged by 10 years ofdecimation and cuts to the service system," she said. "Enough is enough. We need staffing, we need funding."
OPWDD is in crisis, with the state closing group homes and facilities, paying low wages and refusing to offer hazard pay, resulting in staffing shortages that adversely impacts the state's most vulnerable citizens.
"This crisis was manmade," DiAntonio said. "We're been raising whistles and blaring alarms for years. This is shameful and it needs to stop."
Some headway may be coming, with the support of Senator Mannion.
"We finally have a champion," she said, praising the senator for listening to people on the ground who know better than management what is really happening and for holding a hearing to spotlight the workforce problems. "Since he was elected, we have seen a shift."
Mannion, who chairs the Senate Standing Committee on Disabilities, said the situation is dire.
"The people who do the work know we are in an emergency," he said. "We need to save our services and support our direct service professionals."
The senator said people are asking where the staff are and why their loved ones have lost the caregivers they trust and know from years of service. Part of the problem is stagnant wages, deterring new hires from joining state service. It has been a decade since the last cost of living increase for these professionals.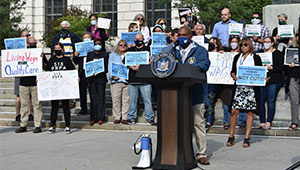 "We need to change the mindset in New York State," Mannion said. "Let's fund these programs the way they deserve to be funded."
PEF President Wayne Spence said members and leaders rallied to call attention to the problem.
"We are here to bring some light and bring some attention to cuts to social services, especially to the developmentally disabled," Spence said. "We have seen year after year the gutting of social services in New York State. At the same time, we've seen exponential increases in shiny new things. Major infrastructure improvements. Major new construction on bridges. I'm not saying that's not needed, but what good is a bridge, what good is an airport when people come to the state of New York and there are no services?"
VP DiAntonio testifies
Following the rally, DiAntonio testified before the Senate Standing Committee on Disabilities, further highlighting the impacts of the staffing crisis.
"The state of New York has embarked on a long-term effort to reduce funding and staffing at all of its agencies," DiAntonio stated. "OPWDD has seen some of the most dramatic reductions in staffing over time. This has negatively impacted the availability and continuity of services for New Yorkers with intellectual and developmental disabilities."
According to data obtained by PEF, OPWDD suffered a 16 percent decrease in staffing from 2011 to 2020, the most recent year available, losing more than 3,700 employees.
"This reduction in staff is directly attributable to the imposition of 'bare bones' budgeting at all of the state agencies that has been in place for years so the state can remain under the arbitrary 2 percent annual state spending cap," DiAntonio said. "This budgeting approach left the state ill-prepared to address the pandemic and has hampered the ability of the state to meet its ethical obligations to maintain the continuity of quality and accessible services for many at-risk New Yorkers."
The agency is operating with 5,000 fewer employees since the spring 2020 hiring freeze, many of which are direct support professionals, such as nurses. Failure to backfill vacated positions has increased clinical caseloads and, ultimately, diminishes the quality and access to care. The pandemic exacerbated the issue, resulting in $156.7 million in overtime – the most of any state agency during the pandemic.
Stagnant wages and increasing demands hinder the state's ability to attract staff to OPWDD.
"The pandemic has demonstrated that the state is simply not a competitive employer for professionals like nurses," DiAntonio said. "The state continues to be a revolving door for these professionals, who are in high demand and maintain high professional mobility. The state needs to do more to attract and retain these critical staff."
PEF urges the state Civil Service Department and Division of Budget to approve a salary grade increase for Nurse 1 from Grade 14 to Grade 18 and for Nurse 2 from Grade 16 to Grade 20.
"There has not been an increase in the starting grades for nursing titles in 30 years," DiAntonio said.
Short staffing impacts more than the care of current patients – it prevents access to these vital services for many in need.
"The inability of OPWDD to attract and retain staff, especially nurses, has forced the 'suspension of services' or closure of many homes and New York State Developmental and Disability Services Offices (DDSO) across the state," DiAntonio said. "This dramatic reduction in capacity has affected the availability of services to residents."
In 2012, programs totaled 2,107, with total capacity at 12,002. In 2019, that dropped to 1,593 programs, with a capacity of 8,863. In 2012, there were 11,770 requests for placement. In 2019, there were 10,936.
"Reviewing the program availability and comparing those program offerings with the total number of requests for placement shows the inadequacy of the current system in meeting the needs of intellectually or developmentally disabled New Yorkers," DiAntonio said.
The short staffing at OPWDD must be remedied to assure the agency meets its mandate.
"The public interest is best served by high-capacity state agencies that render needed services which are staffed by talented, dedicated and professional public servants," DiAntonio said. "The state can no longer continue to dedicate state and federal resources solely to maintain the operations of the private provider agencies."
With 235 hours of overtime in 2020 the average for many OPWDD staff, PEF believes these members should be eligible for hazard pay.
"Many private employers and other state and local governments have already provided this important benefit to their frontline heroes," DiAntonio said. "However, there continues to be no supplemental or hazard pay for the state's essential employees who were required to render services throughout the pandemic, putting their lives and those of their families at risk."
To read the full testimony submitted to the Committee, click here and video here (Randi starts at 1:26:24)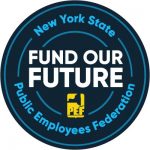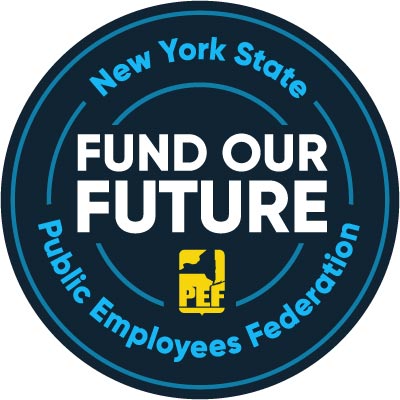 Time to 'Fund Our Future'
The rally calls on September 14 to "Save Our Services" echoes PEF's wider call to "Fund Our Future" and this year's Convention theme, "Fund Our Future for a Thriving New York."
The union is forming a coalition to urge the state to provide the funding needed to run state agencies at the capacity needed to offer the best public services to the people of New York.
Members interested in taking an active role in the coalition can visit https://www.pef.org/fundourfuture.
By KATE MOSTACCIO