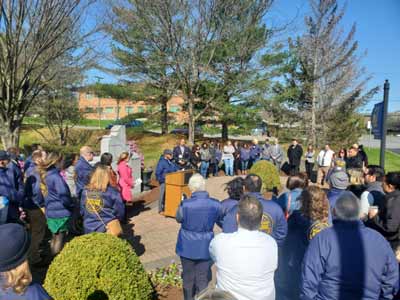 In observance of Workers Memorial Day, PEF staff and union members gathered at the memorial outside PEF Headquarters in Latham to mourn those who have lost their lives at work. 
"It's been a tough year," said President Wayne Spence. "This is a day we observe every year in tribute to those who have lost their life and we renew our fight for safer jobs. Each year, thousands of workers are killed and millions more suffer injury or illness on the job. 
"Too many die from preventable hazards and many more get sick from exposure in the workplace," he said. "Today, many are in danger due to short staffing. This must stop." 
Spence said union members in jails, correctional facilities and mental health worksites are faced with violence due to short staffing and inadequate technology. 
"We are seeing an uptick in the number of members who are assaulted, raped and attempted rape," he said. "These are preventable. It should not be that danger is a 'part of the job.' That should not be." 
Fighting for safety measures on behalf of all workers is a fundamental mission of unions. 
"Since the COVID-19 pandemic began, we have done that every day," Spence said. "Whether it was distributing tens of thousands of masks to health care workers and other front-line personnel when the state would not or couldn't step up; or working through our health and safety committees to demand better COVID protections and ventilation at worksites. PEF has done it and we will keep doing it." 
Since Workers Memorial Day last year, there have been nine more PEF members lost to COVID. There could be more, Spence said, since death certificates do not always list COVID as the cause of death. 
"Every life lost is a tragedy," he said. 
Vice President Randi DiAntonio, Vice President Sharon DeSilva, Trustee Bruce Giddings, and Region 8 Coordinator Danielle Bridger read the names of PEF members who have died and those gathered observed a moment of silence. 
For the last 31 years, the AFL-CIO has compiled a "Death on the Job: The Toll of Neglect" report, featuring national and state information on workplace fatalities, injuries and illnesses, as well as workplace safety inspections, penalties, funding, staffing and public employee coverage under the Occupational Safety and Health Act. 
In 2020, 340 workers died each day from hazardous working conditions and 4,764 workers were killed on the job in the United States. Additionally, an estimated 120,000 workers died from occupational diseases. 
"Underreporting is widespread," the report reads. "The true toll of work-related injuries and illnesses is 5.4 million to 8.1 million each year. The cost of job injuries and illnesses is enormous – estimated at $176 billion to $352 billion a year." 
To President Spence's point, the report states that workplace violence remains a serious and growing problem. 
"Workplace violence is the fourth-leading cause of workplace death overall and the second-leading cause of workplace death for women," the report stated.