PEF President Wayne Spence hosted a Telephone Town Hall for all members on June 28 about the 2023-2026 PEF/State Tentative Agreement that is being sent to the membership for ratification.  If you missed the Town Hall, you can listen to it below.
Physical copies of the agreement have been mailed to all members for review. You can also find all the materials on our Contract page.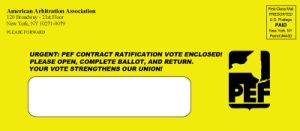 The ratification vote will take place in July. The lemon yellow-colored ballot on the right will be mailed to all members on July 5. Return the ballot inside to the American Arbitration Association promptly so that it is received by 5 p.m. on July 27. Votes will be counted in New York City on July 28.