Thank you for applying to become a member of the Public Employees Federation (PEF)! Our strength derives from our collective power, and we are happy you wish to join our union.
We will confirm your eligibility for membership in PEF, and once we do so, your application will be processed. It may take a few weeks before you see your dues deducted from your paycheck. PEF dues total just 0.9% of your salary, a percentage that has not increased in more than 20 years.
Evidence of dues deduction from your paycheck indicates that your application has been processed and you may begin taking advantage of all the benefits offered to you as a PEF member. You will receive an email confirmation from PEF once your membership has been processed.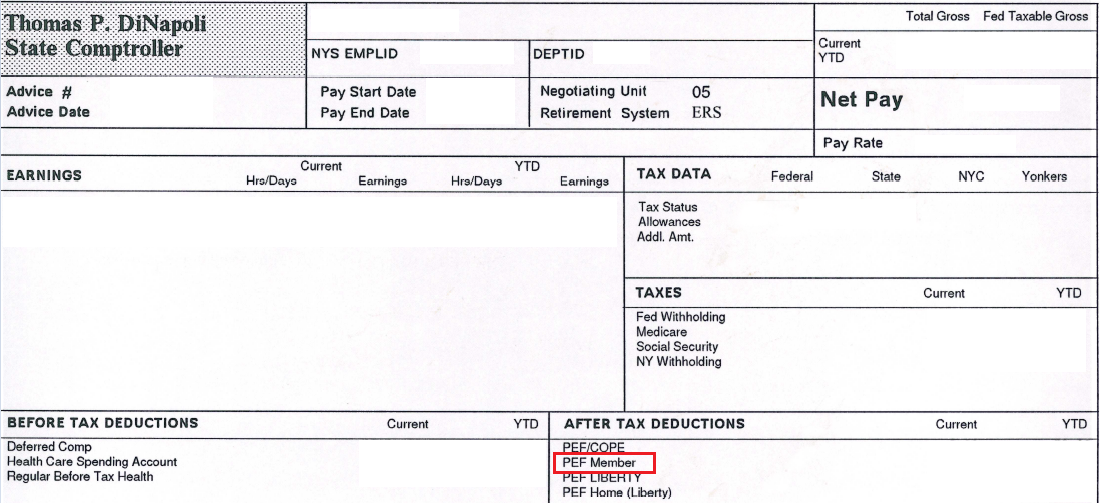 Sample paycheck indicating dues withdrawn.
If you do not see your deduction within 30 days, please reach out to PEF directly at (518) 785-1900, ext. 308 to check the status of your application.
While we process your application, please visit the PEF Membership Benefits Program website at pefmbp.com, to learn about all the valuable insurance programs available to you as a PEF member, as well as the many other benefits you will come to appreciate and enjoy. As a PEF member, you have 240 days to enroll in any one, or all three, of the insurance programs available through PEF MBP (Group Term Life, Short-Term Disability and Long-Term Disability), with no medical questions asked. After 240 days has passed, you may still enroll, but you will need to complete an evidence of insurability (EOI) form as well.
Please note: If you are not eligible to join PEF your application will not be processed, and PEF membership will not be granted.