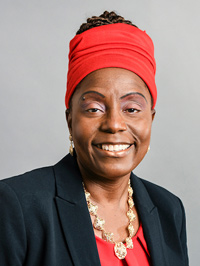 PEF Region 11 Coordinator Bernadette O'Connor started in that position in July 2017, and has worked diligently to ensure the 4,230 members who work in Brooklyn, Queens and Staten Island are properly represented by their union.
O'Connor is a hands-on coordinator who walks-the-walk when it comes to representing PEF members who are so devoted to their careers, they are often reluctant to rock the management boat when a worksite issue arises.
"Some of our members are just quiet, and don't always understand their rights," O'Connor said. "I am here to help educate them as to what their union can do for them. It is important for me to keep our members informed and up-to-date as to what is happening in their union and how it can address their issues, especially post-Janus."
Being a 29-year state employee who currently works as a recreation therapist at Kingsboro Psychiatric Center, O'Connor has become a union activist who knows all too well about the fight against privatization.
"The state was trying to close the Ella McQueen Residential Center in Brooklyn, and we met with elected officials at the Black and Puerto Rican Caucus such as Assembly Members Latrice Walker and Nick Perry. We worked together to get the closure reversed. That success is a result of networking, keeping each other informed, addressing the challenges and finding a solution,' O'Connor said.
She is also working with Assemblywoman Diana Richardson, as community and maintaining quality public services are high priorities for both women.
"Following the rules and the chain of command is a great way to deal with issues that our members encounter. It's all about doing the right thing and solving the issues with respect, instead of running to the top and complaining.
"Whether I am at a membership meeting or going door-to-door to meet with members, my message to everyone is to stick together and stay together," O'Connor said. "The success of our union depends on our ability to communicate and work together to find solutions."
NYC Regional Office – Region 11
Region 11 Coordinator
Bernadette O'Connor
100 William Street, Suite 1700
New York, NY 10038
(800) 522-8700, (212) 227-3132
(866) 897-9775, (718) 637-2019
FAX (212) 964-3571
FAX (718) 637-2024