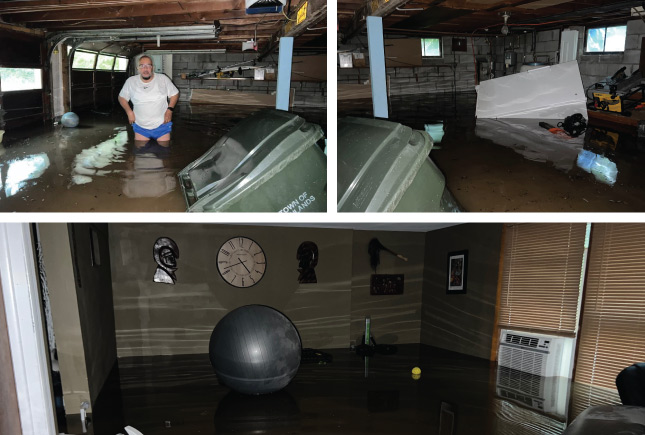 States of emergency were declared across parts of the state on July 9 due to flooding from storms and heavy rain. Orange County in PEF Region 9 was one of the areas hit hardest, receiving up to eight inches of rainfall, and one PEF family was particularly hard hit. 
Alan Oligario works as a Developmental Disabilities Program Specialist at the OPWDD Hudson Valley facility. Oligario's home is in the town of Highland Falls. During the flooding, Oligario shared some of the damage on Facebook, showing large amounts of water coming into the house. 
"Our basement walls have caved in," Oligario said in a post on July 11. "Our bathroom, laundry room, family and bedrooms are destroyed."  
Although FEMA is still assessing the area to assist where necessary, Oligario and his family have yet to receive any aid. His home insurance does not offer flood insurance since Highland Falls is not considered a flood zone. 
Governor Kathy Hochul announced on July 18 that New York would be setting aside $3 million for homeowners affected by the storm and flooding. $50,000 is available to some homeowners and residents in the area, based on the amount of people in the home and household income. Oligario does not qualify for this grant. 
"It's unfortunate, but I am glad that we still have our health," Oligario said. "We're lucky to have food on our plate and be healthy, some people aren't so lucky right now." 
The downstairs portion of Oligario's home is without walls, and he lacks a boiler for his home's hot water. He is still able to use the upstairs portion of his home where he sleeps on his couch. Oligario is also taking care of his two daughters and granddaughter. He said he is doing his best to continue going to work, while working on the repairs to the house and making sure they are all safe. 
At this point, Oligario believes that the rebuilding efforts will likely spill into the fall.  
"I have a few months until I'll need the boiler," he said. "But I'll have to make sure I prioritize what is most important." 
Oligario's family has created a GoFundMe to help fund the rebuilding efforts. Right now, he is using his credit card to handle larger expenses and is grateful for those who have given to the fund already. 
"Even $20 is $20 less than I have to come up with," he said. "I am so grateful to people who are able to help. We're just trying to get back up and running." 
If any PEF member would like to contribute to the Oligario's GoFundMe, visit this link.