Unique space dedicated in memory of PEF child psychiatrist at WNYCPC
By KATE MOSTACCIO
For 22 years, PEF member Dr. Deborah Pickhardt was committed to helping the children who came through the doors of the Western New York Children's Psychiatric Center (WNYCPC).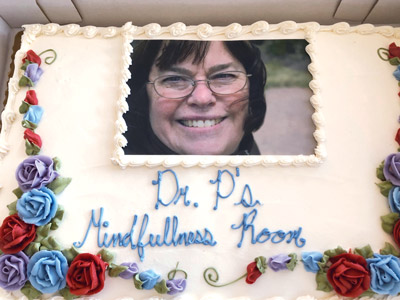 Her coworkers and friends say she was a natural caregiver.
"She touched everybody," said PEF member Patty Moran, Senior Public Information Specialist and Assistant Council Leader of Division 167. "She made an impression on everyone's lives here. She represents the best of PEF, the best of all our employees, with her kindness, compassion and integrity."
Pickhardt made such an impact on her coworkers that they wanted to do something to memorialize her contributions after her death a year ago.
So, they chose to name a conference room in her memory. The room, where Pickhardt and other staff spent a lot of time, whether in staff meetings or meetings with patient families, was renamed "The Dr. Deborah Pickhardt Mindfulness Room."
"She was very modest," Moran said. "She would never believe we would do something like this. She was brilliant but she never tooted her own horn. She always was wondering how you were doing. She looked at you and you knew she was listening to you. That's what made her such a great therapist and doctor."
The room was repurposed, redesigned and redecorated before an unveiling with Pickhardt's family and coworkers on December 23.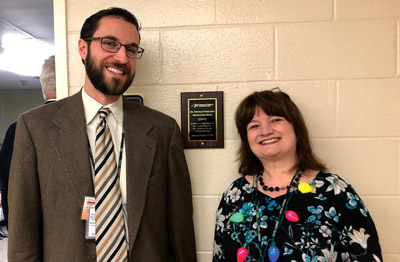 "We have hand prints on canvas, we have pictures of Debbie — one with her sons and one of her as a teenager — and we've commissioned a butterfly painting. Debbie had butterfly postcards on her door," said PEF member Dr. Michael DiGiacomo, a child psychiatrist at WNYCPC. "We knew we wanted to do something. Everybody involved with Debbie wanted to do something for her. A lot of us came up with it at the same time, to rename the room and put it in her honor.
"It was a room that we all kind of had assigned seats in," he continued. "And it was noticeable that she was absent."
"Dedicating the Mindfulness Room in Debbie's memory is a wonderful way to honor her legacy as an integral part of the WNYCPC family," said Division 167 Council Leader Stephanie McLean-Beathley. "Her kindness, compassion and patience made her stand out as a doctor and she was a shining example of a PEF member who devoted her life to her family and her work."
The room's name was carefully considered and holds special meaning to her coworkers.
"We wanted to have a reminder of what a great person she was and to help us do the right thing in our practice — something Debbie always did," DiGiacomo said. "We wanted to be mindful of her kindness, her patience and how much she loved other people.
"A lot of us have pictures of her in our offices but this is a bigger memorial of remembrance," he said.
Debbie's insight and her presence is sorely missed.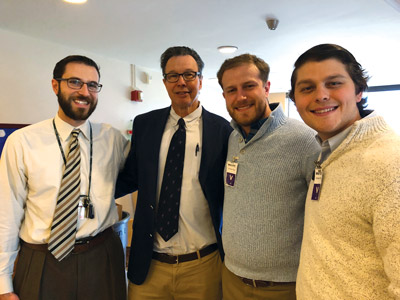 "A lot of us say, 'What would Debbie do?'," Moran said. "When things get stressful, I do a little prayer to her. I know she would just tell me to sit down, relax. I just know she is around us. She probably didn't really know what a key player she was at CPC."
Her young patients also felt her passing.
"When she did pass away, the staff came together to help the kids through it," Moran said. "The kids that knew her adored her. She was a lovely beam of light."
Pickhardt came to psychiatry as a second profession.
"She was an ultrasound technician before going to medical school," DiGiacomo said. "She said she had seen a lot of doctors when she was an ultrasound tech and wasn't impressed with their bedside manner."
Inspired, Pickhardt chose to pursue a medical degree and navigated through medical school, which took her to WNYCPC for her fellowship, as well as a training rotation. She joined the staff following graduation.
DiGiacomo said she was unique among doctors.
"Humility and doctors aren't often used in the same sentence," he said. "I think sometimes doctors need a certain amount of self confidence but Debbie had a unique humility. She was always patient and listening."
---
CLICK HERE to view all stories featured in the Communicator!