Union working to fill workplace safety gaps
By SHERRY HALBROOK
PEF health care professionals, especially nurses, emergency medical technicians (EMTs) and doctors are fighting to save lives every day of the COVID-19 health crisis, and the union is focusing on doing whatever it can to help them do that job safely and effectively.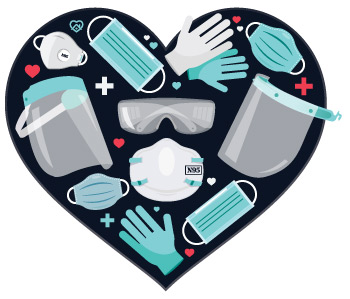 "As a labor union we primarily focus on protecting our members' jobs, and when we have needed to protect their safety on the job that has usually been something isolated to a relatively small group at one worksite or in one job title or at most at a few agencies" said PEF President Wayne Spence.  "Now, we suddenly see that every member faces some level of potentially mortal danger on their job and that is stunning.  We began by working with the state to allow our members to work from home if they can and now we are pressing the state and trying to fill the gaps to keep those safe who are still going in to work."
"The state was scrambling to meet the needs, but it just couldn't supply them fast enough, with New York state and especially New York City abruptly engulfed in thousands of cases and hundreds of New Yorkers dying daily," said PEF Secretary-Treasurer Kay Alison Wilkie. "It is an emergency and we immediately looked for more ways to respond and support our members."
PEF started buying and distributing personal protective equipment such as masks to members who weren't getting enough at their worksites, and renting hotel rooms near the hospitals where exhausted members could rest and shower between shifts and avoid potentially exposing their family members.
PEF has purchased 102,900 masks at a cost of $54,100.  The Greater NY Hospital Association (GNYHA) has also donated some surgical and N-95 masks to PEF for its members. So far, PEF has received just 3,000 of the masks it has ordered and has been distributing them.
An additional 60,000 cloth masks are being purchased by the Membership Benefits Program.
"We received the second order of masks tonight," PEF Division 241 Council Leader Michele Sokolski wrote to PEF leaders April 5.  "I will be bringing them in to distribute tomorrow (at Creedmore Psychiatric Center in Queens).
"Thank you for all that you are doing for us! From the bottom of our hearts, we are all grateful!"
At Sunmount Developmental Disabilities Services Office Division 242 Council Leader Stephanie Champagne sent her thanks April 15, as well, saying:  "I received N-95 masks a few minutes ago via FedEx and this past Saturday some hand sanitizer from MBP.  Thank you so much! Many PEF members on the front lines here will be thrilled."
"We found that we needed help meeting this need," Spence said.  "So, we asked our members, friends and supporters to join the effort by donating to our PEF Relief Fund. These donations are earmarked for the COVID-19 relief."
The PEF Relief Fund (available via the PEF website, Go Fund Me, and social media) has received $58,144 in donations so far, with an additional $8,500 in commitments, for a grand total of $66,644. If you would like to contribute, in addition to the option of donating to the fund online, you may mail a check payable to the PEF Relief Fund to PEF at PO Box 12414, Albany, NY 12212.
So far (by April 20), 121 members have taken advantage of the hotel option, staying a total of 1,588 nights.  And while the greatest use has been on Long Island and in Brooklyn, they are not the only regions being served:
Total Hotel Rooms:  1,588
• Stony Brook: 802
• SUNY Downstate: 418
• Rockland: 38
• Pilgrim: 251
• SUNY Upstate: 33
• Poughkeepsie: 7
• Buffalo: 44
• Helen Hayes: 10
• Bedford Hills: 6
The 121 PEF members using the rooms include 118 nurses, two EMT's and one doctor. And the dollar amount obligated so far:  $169,061.41.
Membership Benefits Program partners have stepped up to support the PEF Relief Fund.  Among those donating are SunLife, Aflac, Liberty Mutual, MetLife, BlueCross BlueShield, Stacey Braun and the law firm of Feldman, Kramer & Monaco, PC.
"The platinum sponsors are Sun Life, Aflac and Liberty Mutual," said MBP Administrator Scott Harms.  "Gold sponsors are Met Life and Stacey Braun, and the Silver sponsor is Feldman, Kramer and Monaco.  We are proud to have them as our partners and we deeply appreciate their generous support of our members at this critical time."
At this point the relief fund has received $66,644 in donations and it continues to grow.
Wilkie added that PEF staff continues to step up and meet these challenges.  "Without their dedication and commitment to support our members and their skill and ingenuity in dealing with both needs and obstacles we haven't faced before, we simply could not respond to this crisis as quickly and completely as we have. I want to personally thank our MIS (IT), Special Events and Finance staff including Mike Favata, Kim Partridge, Russ Kuon, Kristie Furman and all others on our great team.
PEF's legal staff, and MBP have been amazing too."
Spence added his special praise for his Executive Department staff, and the union's field, health and safety, legislative, and communications staff members for their quick action on many fronts during this crisis.
"As always, we find we are strongest and most successful when we work and face challenges together," Spence said. "Whether you are able to shelter at home or are providing intensive care to the very sickest patients, I hope you take comfort in knowing that we are all with you and supporting you through this crisis,. You are never alone when you have a union."