Union fighting to protect members who stepped up to get NYS through crisis
By SHERRY HALBROOK
PEF members and other state employees responded quickly, generously and courageously when the governor suddenly called on them in mid-March to maintain essential state services in the face of the coronavirus pandemic infecting and killing thousands of New Yorkers.  The emergency required fast action with little time to discuss and negotiate the details of how it ultimately would affect the employees.
As some workers were sent home to work remotely, others were kept at their worksites to maintain hands-on services. Still other employees were asked to pitch in and do high-priority work outside their job duties.  Many put in long, exhausting hours, day after day, week after week.  Some still are working far beyond their regular workdays and shifts.
The work has been getting done based on the trust and good faith the employees bring to it.  Now, however, some of them feel their trust was betrayed, because the state has not dealt with them in good faith.
"Just as the state had to spring into action to protect New Yorkers, we, at PEF, had to respond quickly to protect our members," said PEF President Wayne Spence.  "I, along with my executive staff, our Contract Administration Department, legal staff, field services and health and safety staff and others have been in constant contact with the Governor's Office of Employee Relations, legislators (state and federal lawmakers (who passed emergency legislation) various commissioners and many other state officials to head off problems and try to reach agreements and resolve issues as they arose."
Some issues have been more easily or quickly resolved than others.  Two issues have been particularly difficult to resolve and PEF's Contract Administration staff are focused on them.  The first involves access to paid time off from work provided under federal COVID legislation, and the second issue centers on overtime and pay for work outside the members'  job duties.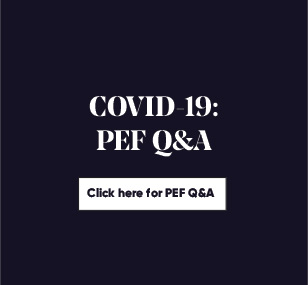 "PEF members are being denied access to benefits afforded to them under the Families First Coronavirus Response Act (FFCRA). This federal legislation, which provides paid sick leave and paid family medical leave, went into effect nearly two months ago, yet many NYS agencies still have not acted in granting the employees the much needed time off provided by the act," said PEF Director of Contract Administration William LeBeau.
"PEF staff has made almost daily inquiries into the status of the FFCRA with GOER, but no answers have been provided," LeBeau said.
Meanwhile, the state is suing the U.S Department of Labor over some of the regulations it has imposed under the FFCRA.  The state contends the USDOL regulations far exceed the scope and intent of the FFCRA. The state argues that those federal regulations opened the door to excluding from coverage an overly expansive set of health care and emergency responder job titles.
"In spite of that lawsuit, the state's failure to rule on our members' requests to utilize
the federal benefits is the same as issuing that broad exclusion," LeBeau said.  "We have filed many contract grievances on the constructive denials, but those grievances will take many months to be heard and decided. Members need access to this benefit immediately."
The pay issues have been equally gnarly.
The state has asked many PEF members to help the state Labor Department deal with the sudden deluge of millions of unemployment insurance claims coming in from all of the workers who lost their jobs when the governor ordered businesses to shut down to help slow the rapidly spreading infection. Other members have been asked to help the state Health Department staff the tsunami of calls coming into its  COVID-19 hotline.
"Despite PEF's repeated requests for the state to provide clarity to volunteers about the compensation for these assignments, the state has failed to do so," LeBeau said.
"PEF members stepped up during this crisis and took these assignments, only to be advised — after the fact — that they would not be paid at their regular overtime rate of pay, but at an overtime rate of a salary grade 9 or at an overtime rate based on the average of the employee's salary grade and a salary grade 9," Spence said. "That's not fair. They should be paid based on their own pay grade.  If the state wanted to pay them less, it should have told them that up front."
"We feel the state created this problem by failing to provide the advance information regarding compensation that our members needed to make educated and voluntary decisions about signing up for
such assignments," LeBeau said. "PEF also disagrees with the state's determination to pay overtime at a lower rate of pay, when such information was not disclosed in a timely manner."
PEF has filed a class action grievance on behalf of affected members.
The union also has provided guidance on its website to members who have volunteered, wish to volunteer or who are mandated to perform any COVID-19 related assignments outside of their regular job duties.