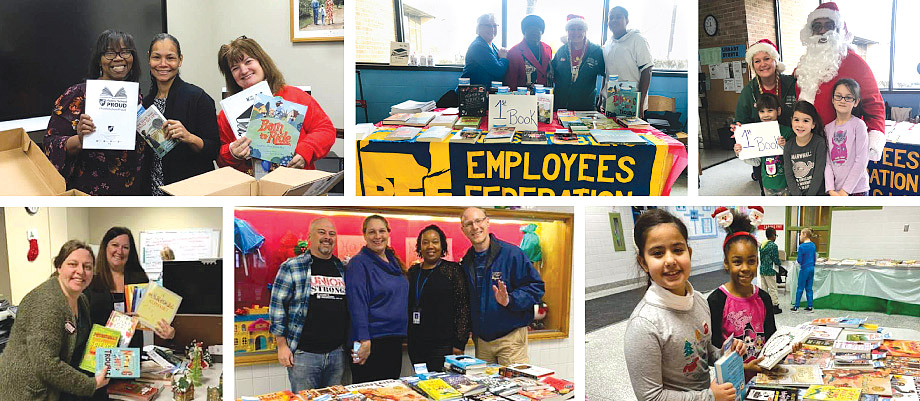 The gift of reading for the holidays
By KATE MOSTACCIO
PEF members from Regions 1, 5, and 12 put American Federation of Teachers (AFT) First Book donations to good use, gifting them to children in multiple state facilities, voluntary agencies, libraries, and public schools.
Since 1992, the First Book program has distributed more than 185 million books and educational resources to programs and schools serving children from low-income communities in more than 30 countries, according to the Firstbook.org website.
RELATED: PEF, AFT deliver the First Book program to young children in Rochester
Division 337 Council Leader Jennifer Voelker and members of her division passed out books and stockings to children who had been court-placed in Division of Juvenile Justice and Opportunities for Youth (DJJOY) treatment programs and facilities in Region 1.
"The youths loved their books and actually asked for more," Voelker said. "With the school packs, we will be using them to give to youths entering the community and returning to school in the community."
Region 1 also donated books to youths in Buffalo-area Office of Children and Family Services facilities and to youths at Western New York Children's Psychiatric Center (WNYCPC).
Division 167 Council Leader Stephanie McLean-Beathley and Assistant Council Leader Patricia Moran presented the book donations to WNYCPC Community Services Chief of Services Frances Patterson.
PEF members went beyond the facilities where they work, bringing gifts to the surrounding community.
PEF Executive Board Member Scott Dobe and Division 332 Council Leader Joe McCann were at Buffalo PS 17 on behalf of PEF and got to see, firsthand, the joy the donated books brought to the children.
"The books were brand new and there was a great selection of titles," McCann said. "I expected them to be books the publisher couldn't sell but they were all popular books. Also, the titles were very multi-cultural and that was perfect for the kids at PS 17."
Region 5 also brought First Book donations to the community, distributing books and supply kits at the George F. Johnson Library in Endicott, Broome County.
Region 5 Coordinator David Dubofsky and Executive Board member Helen Esposito worked with multiple volunteers to ready the books for distribution and to staff the tables at the library.
"The recipients of the books and kits were incredibly appreciative and smiles were abundant," said Dubofsky. His members also contacted the battered women's shelter to let clients know books were being given away at the local library.
"The library was the easiest choice as we had time restraints and they have so many different things there for children," Esposito said. "Where better than the library when school and centers are closed due to the holiday?"
She said the gifts were greatly appreciated, both by those having difficulty making ends meet and by those seeking a variety of themes.
"Many children of families who live paycheck-to-paycheck, or who are on some sort of assistance, were very happy for the supplies and books that we gave out," Esposito said. "We also had several who were impressed with the ethnic books geared toward children of color, as this is not something you see on a regular basis."
Region 12 distributed First Book donations December 21 at Wayandanch Public Library in Suffolk County during its holiday event.
"They were kind enough to prepare a table for us in the main area where the children were receiving gifts," said Region 12 Coordinator Nora Higgins. "The children were a bit timid about keeping the book, but left the table with a big smile. The early visitors to the table were thrilled to obtain the school-aged kits as well."
Assisting at the event were retirees Mary Reid and Candyce Falner; active members Barbara Coniglio and Higgins; and three grandchildren as helpers, Julie, Madison and Leigha.
---
CLICK HERE to view all stories featured in the Communicator!