Showing appreciation, supporting those on the frontlines
By KATE MOSTACCIO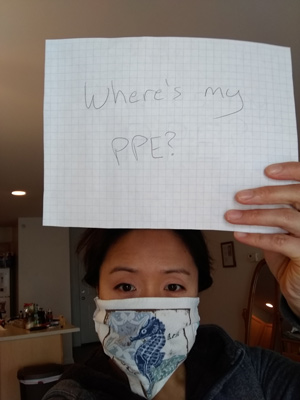 For some people, whether they are PEF members themselves or someone who has been coming in contact with PEF members, being idle just isn't in their blood.
The staff at the Homewood Suites by Hilton in East Syracuse went above and beyond providing a place to stay for some PEF nurses. The general manager, Roberta Andrews, decided go one step further and sew and personalize masks for her guests working on the frontlines in health care.
"We want to appreciate those who are truly essential," said Andrews. "It's just a little thing. Just something to let them know they are being loved and thought of and we appreciate them."
Andrews, faced with low occupancy, has had to lay off staff. She moved into the hotel temporarily and brought her sewing and Cricut machines with her to pass the time.
Building on Hilton's current motto of "Honoring those bringing light and warmth to a world in need," she is making her guests' stays a little brighter. The personalized gifts are left in guest rooms for privacy.
"It's hard to be away from your family," she said. "We are doing anything we can to help their stay and let them relax in a safe environment."
PEF has been working with hotels to put up members who are protecting vulnerable family by staying away or who are too tired after long shifts to return to their house. If you would like to donate to this cause, click here.
PEF member Tracy Fitzgerald, a legal assistant, has been working from home and wanted to do something more for her fellow members on the frontlines.
"When we went to working remotely I felt there wasn't anything I could do to help," she said. "I was hearing people needed masks. I didn't have a sewing machine but I do sew by hand. I had to use scrap fabric and I started making masks to keep busy and do something to be constructive."
Fitzgerald made masks for herself and her family, but also mailed a number of masks to PEF for distribution to whoever needed them.
"We're all home which is great for us," she said. "But I wanted to help in the ways that I could. There are a lot of people who couldn't stop working or work remotely."
Members of Division 167 from the Office for People With Developmental Disabilities also dusted off their sewing skills and began to make masks for coworkers.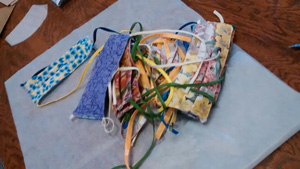 "Some of our RNs were making masks for themselves and individuals in the homes they serve," said Council Leader Stephanie McLean-Beathley. "We've had family members make masks. We had the masks that PEF sent to us. Early on we made a commitment to do what we could to try to keep our members safe. That's how the masks started going. Initially there weren't enough available at worksites."
McLean-Beathley said her members began making the masks to protect their members until management was able to secure enough masks.
"We started protecting members on our own so management was able to get their order together so they could fully equip the group homes that we serve," she said. "We are all just trying to keep everybody protected.
"In the beginning it was to protect themselves and the people they work with. The good thing about cloth masks is that they are washable and reusable," she said. "They have been getting a lot of wear. We have plenty of PPE now at OPWDD and OMH but if something were to happen again those would be the first things people can go back to."