Series of evacuations at N. Pearl office prompt emergency procedures review
By KATE MOSTACCIO
PEF Health and Safety chairs, local leadership, and staff spent the better part of a recent Friday assisting members from four state agencies after smoke filled a space on the fifth floor of 40 N. Pearl St. in Albany, triggering alarms and forcing their evacuation for the third time in just over a week.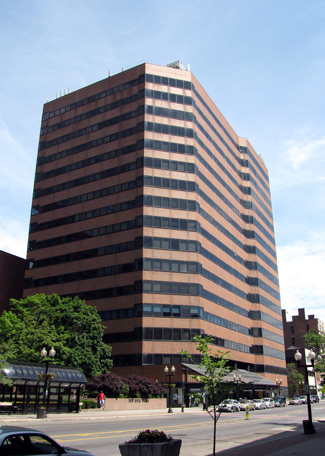 PEF learned a burned out heat pump was the cause for the smoke condition.
By early afternoon, most employees had been sent back into the building, with the exception of those from the fifth floor who remained at 625 Broadway. The Office of Children and Family Services (OCFS) moved employees to its headquarters at 52 Washington Ave. in Rensselaer.
PEF reached out to the state Office of General Services and requested documentation of plans for reoccupancy at the state-owned building. OGS has since provided the information.
PEF also requested an increase in fresh air intake for the building's HVAC system when returning employees complained of lingering smokiness. The indoor air quality was subsequently tested December 21.
This was the third evacuation that month for this location.
On December 12, PEF members at 40 N. Pearl were evacuated when a City of Albany water department crew hit an 8-inch gas line, causing a gas leak and rupture, while trying to find a water main and repair a leak.
Not long after, on December 18, the water heater for the cafe on the first floor leaked and jeopardized nearby electrical systems. Employees were initially evacuated to 625 Broadway before being directed to go home for the day.
Making recommendations for improved response
Region 8 Coordinator Mike Blue, Office of Temporary and Disability Assistance (OTDA) statewide Health and Safety Chair Pam August, OTDA local Health and Safety Chair Lisa DeJesus and PEF Health and Safety staff met with management from OTDA January 6.
"We had a successful meeting," Blue said. "OTDA has dedicated emergency planning staff and they share our concerns and are willing to work with us."
OGS, which manages the 40 N. Pearl office, put out an emergency management plan. OTDA also has a comprehensive plan that piggybacks on the OGS plan.
"It's a pretty thorough plan," Blue said.
PEF made a few suggestions for improvement, including planning for rally points farther from the building, creating a phone tree via text to notify staff of emergencies, and giving staff refreshers on emergency procedures periodically.
Management also suggested moving the agency's van to a closer parking lot to accommodate evacuating staff with mobility or medical issues. It is considering having temporary decals to put on the van to make it visible to those in need of assistance.
"Suggestions regarding the van are in the works and we are in agreement with management on that," DeJesus reported
Blue said OTDA does new hire orientations that include what to do in the event of an evacuation, but PEF recommends a refresher either by video or in person.
"We need to change the culture," Blue said. "Things like keeping your necessities with you when you move around the building. There can be no going back to your desk in an evacuation."
DeJesus said management has already begun working toward some of the shared goals.
She also said she discussed a refresher course with her director, who took it to the agency deputy, and all agreed it was a good idea.
"This course will serve as a reminder of what to do and not to do during an emergency," DeJesus said.
PEF also plans to request occupancy levels of state entities in the city of Albany. Blue said this is critical information that will make planning where to send evacuees a lot easier. "It will be helpful to avoid overloading one building," he said.
In addition, a recommendation was made to look at the reoccupancy process. During recent evacuations, staff were directed to return to 40 N. Pearl by floor – but that's not how it happened, which left many people standing in the lobby or outside until they could return to their offices.
"This is where a refresher would also be helpful," Blue said. Reoccupancy must take place through the main entrance, so a floor-by-floor plan is the best way to avoid a bottleneck.
OTDA union leaders on the ground said communication among agencies at the location will be key in the coming months.
"PEF agency health and safety representatives work closely with OTDA management," August said. "We continue to work on communication throughout 40 N. Pearl since we are not the only agency there. Having multiple entities effectively communicate continues to be a challenge."
PEF plans to have a similar meeting with the Office of Information Technology Services to improve emergency procedures going forward.
General conditions under review
The building at 40 N. Pearl St. is on the Article 18 Joint Health and Safety Committee's radar. That committee, which meets quarterly, is PEF co-chaired by Blue and Region 10 Coordinator Darlene Williams.
"We have been working with the Governor's Office of Employee Relations (GOER) to address ongoing health and safety issues at 40 N. Pearl that include things such as nonoperational elevators, leaky windows, poor sanitation (mice, associated with improper garbage pick-up schedules), some bedbug incidents, and inconsistent communications between building management and our Health and Safety Chairs," Blue said. "We have seen much improvement over the last year or so. We are expecting to meet with the state in the near future to discuss the state's response to the emergencies that have happened over the last week or so."
Members who want to have meetings on evacuation and emergency procedures are encouraged to reach out to their H&S chairs or the PEF Health and Safety Department at 518-785-1900, ext. 254.
---
CLICK HERE to view all stories featured in the Communicator!
---
Follow and Like Us On:


For best desktop viewing use the latest Google Crome browser