Sen. Schumer joins members on PEF COVID-19 tele-town hall
By SHERRY HALBROOK
PEF members who tuned in to the union's tele-town hall Thursday, April 9, had an opportunity to hear from their U.S. senator, Chuck Schumer, when he joined them on the call to update them on what Congress is doing to help them through this crisis.
PEF President Wayne Spence also brought several members working at key COVID-19-related sites throughout the state on to the call to speak about what they are experiencing.  Secretary-Treasurer Kay Alison Wilkie, Vice Presidents Sharon V. DeSilva and Randi DiAntonio and key staff members were also on hand to update members on the latest news and address some of the most recent questions PEF members have been asking.
Spence began by outlining some of the many actions PEF has been taking to help members and he urged members to keep checking the PEF website to access the latest information on COVID-19-related issues and the FAQ the union posted providing answers to the questions members are asking. This information is being updated as fast as new information becomes available, which can be as often as several times in just one day.
Wilkie reported that PEF Political Director Leah Gonzalez and Regional Director of Field Services Downstate Ricardo Cruz helped PEF obtain 50,000 medical/surgical masks and 3,000 N-95 masks and rush them to members who need them, but don't have them.
DiAntonio responded to a member's question about the possible closing of some state prisons.  As PEF Political Action Committee chair, she reported that in spite of hard lobbying by PEF the state budget that passed allows the state to give only 90 days notice before closing a prison. But the Legislature did add budget language requiring the Department of Corrections and Community Supervision to report to the Legislature within 60 after such a closure on how the affected state employees were redeployed.
PEF General Counsel Renee Delgado said she has spoken with both officials at the state AFL-CIO and members of a prominent law firm that specializes in Workers Compensation cases to get answers to questions about how to protect the rights of PEF members who develop COVID-19 because of workplace exposure.
"Document everything," she advised. Start documenting any possible exposures you have, when and where and how you have them, any symptoms you develop, test results and medical advice or treatment you receive, and how and when you are quarantined or ordered to self isolate. PEF has posted state Workers Compensation form C-3 on its website for you to download and file.
Delgado said the experience PEF and other union members had after 9/11 demonstrate how crucial it is to have documentation to support any claims you need to make regarding work-related injuries or illness.
"Please document it now," she emphasized.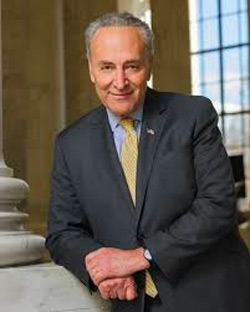 In bringing Sen. Schumer onto the call, Spence said the senator was the first public official to call and congratulate him when he was first elected president in 2015. Schumer responded that PEF gave him his first big endorsement in his initial run for the Senate against the incumbent Alphonse D'Amato in 1997.
"You were there for me when I needed it and I will always be there for you," Schumer said.
He praised PEF members for maintaining their vital services to New Yorkers even at the possible risk to their own health and lives. "You are our heroes," Schumer said.
The Senate minority leader outlined the efforts that were made to get desperately needed financial support for individual Americans, small businesses, states, counties, health care institutions and their workers, as well as for big corporations and other large employers during this crisis. He talked about the importance of ensuring that New Yorkers and other Americans cannot be thrown out of their homes if they can't pay their rent or home mortgage because of being laid off or furloughed during this crisis.
Schumer also talked about the next round of aid that he is trying to negotiate now in the Senate. He wants to include a $25,000 payment to workers who are staying on the job in spite of personal danger to meet the medical crisis and to keep food, medicine and essential services running.
"Much of the PEF membership would be covered," if he is successful in negotiating this provision, Schumer said. "I'm with you all the way.
"New Yorkers are brave, strong, bold and resilient, and we will get through this," he added. "We will come back, stronger than ever."
Spence responded that about 75 percent of the PEF membership is deemed essential and is going in to work, instead of working from home, and he expressed the hope that the state and hospitals will use the federal aid to get the equipment and help that members need to save lives and
be safe.
When Spence brought the succession of members on the line to talk about what they are experiencing, one word stood out in their comments: Crazy. Several members used it to describe how extreme and unprecedented and unimaginable conditions are where they are working.
Richard Fletcher is a disability analyst 3 at the state Office of Temporary and Disability Services in Binghamton. But that is not where he is working or what he is doing now. He volunteered to help and for the last three weeks he has been working at a drive-though COVID-19 testing site in Jones Beach State Park on Long Island.
"We are testing 800 to 1,000 people daily," Fletcher said. He and other state employee volunteers are working with members of the U.S. Army, Air Force and Marine Corps at
the site.
A U.S. Army combat veteran, himself, Fletcher said his fellow state volunteers are making him proud. "They are the first ones here every morning, even before the Army gets here," he said.
Spence also reached out to Amy Pacholk, a teaching and research center nurse 2 at SUNY Stony Brook Medical Center on Long Island, who has been interviewed by both local and national news outlets about how they are holding up during this onslaught.
Pacholk said they just received about 20 medical staff from SUNY Upstate University Hospital in Syracuse earlier that day. Their help is greatly needed, she said, because Long Island has some of the highest levels of COVID-19 cases in the state and the entire country. It's a situation that means she's working an extra 24 to 36 hours of overtime in a two-week pay period.
"It's the craziest thing I've ever seen," she said of conditions in the hospital. "These patients are super ill and we deal with a lot of death. While most of the sickest patients have other serious illnesses (called co-morbidities) such as diabetes or heart disease, some, she said, appear to have none at all."
PEF nurses are exhausted, she said, and appreciate the hotel rooms PEF has made available for them so they don't need to go home and risk exposing their families to the virus. They are also grateful for the words and gestures from patients and the public who thank them for what they are doing.
"It's incredibly uplifting," Pacholk said.
John Buttino, a fire protection specialist 1 at the state Division of Homeland Security in Buffalo said he is one of those sent out to help with the COVID-19 response at more than a
dozen sites. Meanwhile, he said, about 15 percent of the state fire safety staff are quarantined because they have been exposed to the virus or are exhibiting symptoms associated with it.
Buttino thanked the union and its leaders for all they are doing to support the members and help them get through this crisis.
Nicholin McMillan, a TRC nurse 2 at SUNY Downstate Medical Center in Brooklyn (designated for COVID-19 patients only) said she had just worked from 7 p.m. Wednesday until 2 p.m. Thursday, although her shift was supposed to end at 8 a.m., and then the hospital wanted her to come in for another shift at 7 p.m.
"We are always short staffed," she said, "but I just can't do another shift now. I had to say no. I can't do it.
"It's crazy. Our patients are very, very sick," she said, and told of losing a new patient just a short time after she had checked his fever.
"We are consoling the patients, their families on the phone, and everyone. It's emotionally and physically draining,"
she said.
A link to a recording of the tele-town hall will be available on the PEF website.