Remember workers killed, injured on the job this Workers Memorial Day
By KATE MOSTACCIO
The COVID-19 pandemic has changed how we conduct business, how our children learn and how we go about our daily lives. This year, it will also change how we observe Workers Memorial Day on April 28, preventing the traditional gatherings at memorials and solemn ceremonies of past years.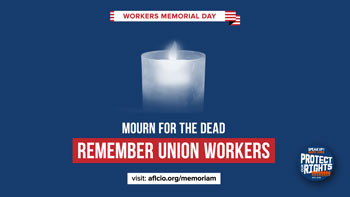 "This year, more than ever, it is crucial that we recognize the sacrifices of workers killed or injured on the job," said PEF President Wayne Spence. "The pandemic shines a light on the perils essential workers face in the workplace and the unprecedented shortage of personal protective equipment, staff shortages and agencies unprepared to handle a viral outbreak."
Area labor organizations are finding innovative ways to make sure this year's observance doesn't fall by the wayside.
"Each year, on April 28, the labor movement observes Workers Memorial Day to remember workers killed or injured on the job and to renew the fight for strong safety and health protections," a release from New York City Labor Council (NYCCLC) stated. "Though our commemorations will look different this year, taking place largely through social media and other online platforms, they are more important than ever.
"Here at the epicenter of the COVID-19 pandemic, workers are continuing to fall ill, with frontline healthcare, first responder, transit, city agency, education, retail, building trades, and other workers among the many lost in NYC to date," the release stated.
The Labor Council will remember workers killed or injured on the job through a digital campaign all day April 28, posting photos, short video clips, and messages of support and gratitude using the hashtags #WMD2020 and #WorkersMemorialDay.
Names, ages and occupations of workers can be sent to gro.c1627953935lccyn1627953935@02021627953935dmw1627953935 for inclusion on NYCCLC's social media; PEF members can also send their submissions to gro.f1627953935ep@tn1627953935arbll1627953935iwk1627953935 for inclusion on PEF's social media pages; or you can share tributes on your own pages using the hashtags above.
This year's AFL-CIO theme for Workers Memorial Day is "Protect Our Rights, Speak Up for Safe Jobs."
"During this national crisis, it is even more important that we stand together against the ongoing attacks on workers' rights and protections," AFL-CIO President Richard Trumpka said in a letter to member unions. "Every worker has the right to a safe workplace. When workers are punished for speaking up against unsafe working conditions, everyone's safety is at stake. A climate of fear impacts everyone's lives at work."
In 2017, nearly 3.5 million workers across all industries, including state and local government, had work-related injuries and illnesses that were reported by employers, with 2.8 million injuries and illnesses reported in private industry, according to the AFL-CIO. Due to limitations in the current injury reporting system and widespread under-reporting of workplace injuries, this number understates the problem. The true toll is estimated to be two to three times greater.