Pitch in and help Region 8 Women's Program
By SHERRY HALBROOK
The PEF Region 8 Women's Program is expanding its efforts to collect needed items to help people in the Capital District who need help with food and other household staples, such as toiletries.
The program now has two boxes at PEF headquarters in Latham, one in and one near, the Region 8 field office where you can drop off items that will be delivered to two local pantries for distribution.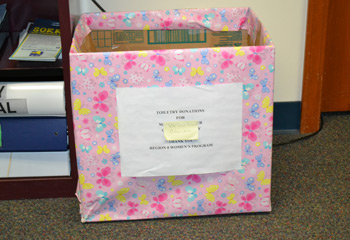 "We have been giving our collections to Joseph's House and Shelter in Troy, and now Region 8 member Danielle Parente has asked us to also collect items for the Hope 7 Pantry that's also in Troy and where she volunteers," said Linda Baker, who chairs the Region 8 Women's Program.
Parente said these programs need more than just food donations and find it hard to keep enough toiletries (bar soap, shampoo, toilet paper) as well as diapers (size 4/5 especially) to meet their clients' needs.
"We encourage PEF members who are coming to PEF headquarters to bring these items for our collections," Baker said. "If you are coming to Albany for a meeting or conference and staying at a hotel please consider donating toiletries supplied in your hotel room that you aren't going to use. Every little bit can help.
"I also want to encourage members who want to support this effort and our Women's Program to contact me through the Region 8 field office, because we need more help," Baker said.
PEF Region 8 Coordinator Michael Blue commended the Women's Program for its efforts and echoed Baker's call for more members to become involved in it.
"Supporting local pantries and shelters is a great way to help build our communities," Blue said. "I know that we have many more members in Region 8 who are already volunteering and supporting such efforts and I would love to see them get involved with our program. We need to become more visible as a union in our cities and neighborhoods, and this is an ideal opportunity to help others and to build our community ties."
---
CLICK HERE to view all stories featured in the Communicator!
---
Follow and Like Us On:


For best desktop viewing use the latest Google Crome browser