PEF, state must work together quickly to ensure safe return to work
By SHERRY HALBROOK
After a couple of months on "Pause," it's time to put your foot on the gas if you are the PEF chair of a joint labor-management, or health and safety committee.
PEF President Wayne Spence and the union's health and safety staff strongly conveyed that urgency in a May 20 conference call with the chairs and division leaders.  Their mission:  Reach out and meet quickly with management to discuss and jointly plan for the safe return of non-essential staff to their worksites before the state finalizes its plans and employees are walking in the doors.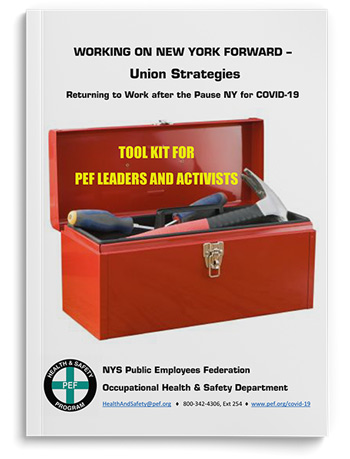 Management and labor must work together if they want to achieve the best results for everyone.
PEF had already emailed a "tool kit" of two documents to each of them the chairs and leaders, with one document for them to give to their managers outlining what PEF believes should be discussed and considered in planning, and the other document to provide the PEF chairs and leaders with the technical information they will need to properly assess potential risks associated with the return to work and to understand how best to address them.  And the PEF organizing department is reaching out to the union's local leaders to ask what problems and challenges they foresee in the return to work process for their members.
Spence praised the union's health and safety committee and staff for creating the materials in the tool kit, which both of PEF's international affiliates, the Service Employees International Union (SEIU) and the American Federation of Teachers (AFT) have chosen to use with the millions of members they represent nationwide.
"Make sure to reach out and meet with management right away on jointly conducting a worksite risk assessment and developing a return-to-work plan," PEF health and safety specialist Geraldine Stella said.  "You need to approach management at both the statewide and the local levels.  We are already seeing that they may refuse our request to meet.  They may tell you they are waiting for the state to give them a plan.  But those plans need to be tailored to each worksite."
Stella added that even if management refuses to meet with PEF, it still might incorporate some of the information in the document PEF provides into the agency or workplace plan.
If management is stalling or unwilling to meet with you, Spence said to notify him and he will step in to help the state see the many advantages of working with the union to ensure the full workforce return is both safe and efficient.
"Commissioners are not calling the shots," Spence said. "It's the state budget director who is calling the shots, because the state has a multi-billion dollar deficit."
Stella added, "Get your meeting request in management's hands immediately.  Request the meeting for a specific date very soon.  List at least three people you want to represent PEF at the meeting and give them a specific date to respond to this request.  Put it in writing along with the outline we sent you for what needs to be addressed at the meeting.  If they refuse, send their refusal to President Spence. You should also notify your PEF field representative and the health and safety department as well."
It is the state's responsibility to provide a safe environment for its employees and If the state wants the public and the private sector to follow the governor's guidelines for businesses to reopen, Spence said, then the state should lead by example.
PEF is asking for the same provisions for a safe return that the state is requiring of business.  These include::
• Adjust workplace hours and shift design as necessary to reduce density in the workplace;
• Enact social distancing protocols;
• Restrict non-essential travel for employees;
• Require all employees and customers to wear masks if in frequent contact with others;
• Implement strict cleaning and sanitation standards;
• Enact a continuous health screening process for individuals to enter the workplace;
• Continue tracing, tracking and reporting of cases; and
• Develop a plan for resurgence of the virus.
During the call, Stella and PEF health and safety specialist Shawn Bobb reviewed some of the technical issues raised in the tool kit material and highlighted issues the PEF members should be sure to consider in their risk assessments of specific worksites.
And Paige Engelhardt, occupational safety and health specialist, discussed the importance of phasing in the return of staff, accommodating at-risk employees, and planning for a possible resurgence of the virus.
After requesting the meeting with management, health and safety and other leaders should:
• Assess the worksite risks;
• Modify the outline above to suit your worksite;
• Make sure everyone is tested;
• Talk to members to hear their concerns; and
• Provide members the information they need, which may be on PEF's COVID-19 webpage.
The tool kit provides a great deal more information through a detailed outline to follow as the return to work progresses through the reopening phases.
Bobb emphasized the importance of air handling capabilities to maximize the circulation of fresh outside air coming into workspaces.  This can be very helpful in removing the COVID-19 virus and reducing exposures, but it can also increase operational costs if the outside air needs to be cooled or warmed and even increasing fan use will drive up energy costs.
The union should strongly encourage its members to wipe down their work area when they begin their shift and again when they end their shift.
Even though your workplace or your state car may be cleaned overnight, take your own initiative to protect yourself, Spence advised.  If a member feels cleaning is not part of their job description, they are losing sight of the more important priority of protecting themselves from a dangerous infection.
"Don't let small gripes overshadow more important issues," Spence said.  "Cleaning your area is a miniscule issue. This is time for serious priorities and leadership.   I'm a parole officer.  I would wipe down my state car, because I don't know if the cleaner who did it might have the virus and wasn't showing symptoms."
A leader from western New York said he worries that employees there may be too complacent because they have not have felt as threatened by the virus as those in New York City and Long Island.
Stella advised him to remind members who are reluctant to wear a mask, social distance and keep washing their hands and cleaning work surfaces that, "It only takes one uncontrolled exposure for you to become infected."
That same leader said members of his division all seem to think they should be issued N95 grade masks and they expect to receive them when they come to work.
Bobb said you only need an N95 mask if your job requires it – usually for direct care or close contact with a COVID-positive or suspected COVID-positive patient or inmate.  Otherwise, you should wear a surgical or cloth mask.  Members, however, may provide their own N95 mask even if their job does not require it.
Another PEF leader asked what the local union should do if the agency or the Office of General Services is not cooperative in preparing and operating the building to maximize safety.
"If OGS tries to pass the issue off to the tenant building committee, let us know," Stella said. "Staff member Paige Engelhardt might be able to help resolve the issue."
Stella emphasized that the COVID-19 virus is very new and still mutating, so there is still much to learn about it and how to prevent its spread.  The information that PEF is providing now in the tool kit will need to be updated and evolve as well. "This is very fluid," she said, "and we need to hear from you about what is going on at your agencies and worksites, and we will hold more of these teleconferences if you need them to share new information and answer more questions."
To share information or ask questions, contact the PEF health and safety department at gro.f1627343823ep@yt1627343823efaSd1627343823nAhtl1627343823aeH1627343823 or call 518-785-1900, ext. 254.