PEF secures masks for members in need when state falls short
By KATE MOSTACCIO
New Yorkers are required to wear masks in public when social distancing is not possible. Masks are on everyone's minds. But, for frontline workers and PEF members deemed essential – masks have been hard to come by.
"PEF has made it a priority to source masks for our members," said President Wayne Spence. "We have reached out to industry contacts and have been working tirelessly to obtain KN95 and surgical masks for our members on the frontlines of this pandemic."
Finding masks for members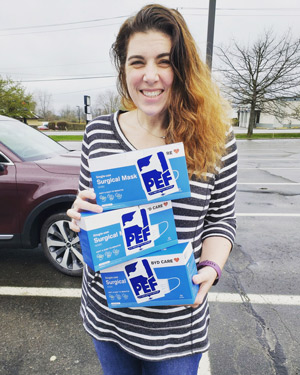 PEF Political Director Leah Gonzalez, a former staff member at 1199SEIU, used contacts she has at the Greater New York Hospital Association to get the ball rolling on masks for PEF members in New York City and other hard-hit locations at the epicenter of the pandemic.
"This was born out of trying to make sure our nurses at SUNY Downstate had enough PPE," she said. "I spoke to contacts at the Greater New York Hospital association, a big part of the governor's PPE supply chain for the state. They are very well connected."
When Gonzalez told the association what sort of work PEF members do, they were immediately on board to help.
"They were so gracious," she said. "They said, 'We thank them for their service and they deserve to be protected.' They were able to get us out a shipment, part of the state PPE pipeline, and were able to parcel out 6,400 masks as a donation."
The disbursal of PPE is a daunting undertaking but Gonzalez said her contacts knew the process.
"It was such a huge production and they were doing such an amazing job," she said. "The president of the association has been in some of the governor's briefings helping to coordinate the hospital response in the beginning weeks. Because they represent major hospitals they have all those contracts with manufacturers."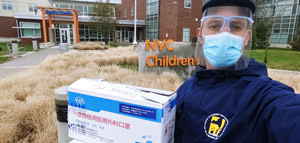 Since the original donation, Gonzalez said they have received an additional 26,400 class 2 surgical masks and 3,000 KN95 masks.
A New York City company, Quantum Visual Imaging, shifted gears from its usual production of banners and other visual graphics, and has provided PEF with 1,200 face shields for distribution, Gonzalez said. The company joined up with other independent fabricators and is accepting donations to enable them to produce face gear and PPE for healthcare workers.
PEF Chief of Staff Chris Leo drove downstate last week to pick up a batch of face shields, then drove back upstate and delivered them to Region 7 OPWDD facilities. The shields were distributed to members involved in direct patient care.
"It has been difficult to obtain face shields but we felt these were vital and necessary equipment for our members in these direct care positions," said President Spence.
Below is a sampling of members who received and distributed masks to their coworkers. To see more, visit PEF's Facebook page where photos continue to be added.
Getting masks to those at the epicenter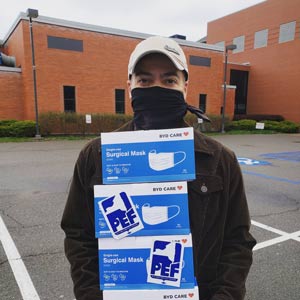 Ricardo Cruz, PEF's Downstate Director of Field Services, worked out in-person distribution to downstate members as part of what he called, "Operation PEF Cares."
"We endeavored on a mission to deliver 6,000+ surgical masks to members in New York City, Long Island and Westchester who needed them most to protect themselves while working against the COVID-19 virus," Cruz said.
He praised downstate field representatives for stepping up to the task of distributing masks.
"This couldn't have been accomplished without you," he said. "Because of your hard work and dedication thousands of members that were working without masks, potentially exposing themselves and their family to COVID-19, today woke up with a sigh of relief because they have masks to protect themselves."
Cruz said when he put out a call for assistance to hand out masks, the downstate staff all volunteered without hesitation.
"Since the beginning of this pandemic, the staff has been working 10 to 15-hour days," he said. "I see them answering calls and emails starting at 7 a.m. They have been really responsive to the members and have been fighting to make sure the members get the PPE they deserve. They should be commended."
Gonzalez also praised the field reps. "They were all so happy to have participated in it. That made my week. It felt really good," she said.
Field Reps Priscilla Marco, Robert Wright, Bradley Kolb, George Fernandez and Erin Morales took to the streets to bring masks to members in need.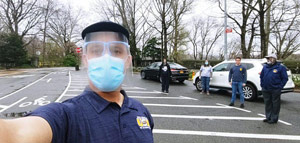 Distribution efforts began when Cruz picked up the donated masks at a warehouse in New Jersey and drove them to Fort Tryon Park in Manhattan where the field reps lined up, one car after another, to receive their allotment for delivery.
"Leah deserves a lot of the credit because she, through her prior relationship and connections, was able to get these," Cruz said. "She reached out to me and I had to drive all the way down to New Jersey to get them. Ibrought them to my home and my family and I broke them up. We had a list to work off. The first batch of 6,400 mostly went to OMH facilities in New York City and Long Island. In addition to OMH, some went to parole offices in New Rochelle, New York City and Long Island."
Cruz, who was a PEF member as a parole officer, said this experience has been eye opening. "As a member, I never realized how much they [PEF staff] do," he said. "I have a new appreciation for staff."
The members receiving the masks were pleasantly surprised by the appearance of staff bearing masks.
"They were all surprised. This wasn't planned way in advance," Cruz said. "We weren't sure when we were going to get them. We had no time to let them know. When we were on our way to the location, we called them. They were of course ecstatic. Some of these places had none. Others were working with what was issued and what was issued was being controlled. They couldn't be happier."
Rockland Psychiatric Center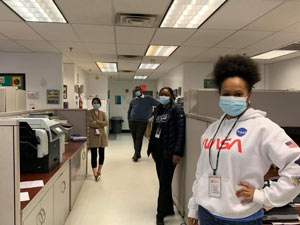 At Rockland Psychiatric Center (RPC), where there are 65 COVID-19+ cases and 12 deaths among patients, and where staff lost a CSEA member to the virus, Executive Board member and Steward Carl Ankrah said the masks from PEF were greatly appreciated.
"There were badly needed," he said. "Like most facilities, the facility did not take the issue seriously and at the outset of this, they were working without masks, even surgical masks." That has changed as the virus spread like wildfire in New York City and the surrounding counties. "Now everybody is getting the N95s on inpatient wards but not outpatient."
Ankrah said the PEF supplies have been directed toward those members working in outpatient programs. "They aren't getting the N95s," he said. "The outpatient staff are really grateful that PEF is giving out these masks."
The virus has hit the facility hard over the last months.
"We had many PEF members out," he said. "Some tested positive. They are gradually coming back but the facility was really, really struggling with staff. Nurses were being mandated back to back. These masks are extremely helpful. In outpatient, clients are coming in for injections so you may have clients who may have contact with COVID. It's important that we all protect ourselves."
RPC has received two batches of 750 masks, Ankrah said. He also recently delivered masks to a clinic in Yonkers. "They were very appreciative that PEF brought masks for them," he said.
Creedmoor Psychiatric Center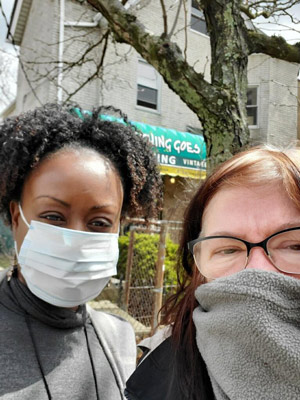 In March, employees at Creedmoor Psychiatric Center learned there was a COVID+ case among staff. Council Leader Michele Solokski immediately went into action, contacting administration and asking about the plan to protect members working on inpatient units.
Despite being told there was a plan, Solokski says there was still concern for her members, especially the habilitation specialists who were still working with clients but didn't have any proper PPE. She reached out to PEF for assistance and received masks and N95s to distribute to her members.
"Wayne said, 'Let me know of if our members are still being put in harms way,'" she said. "My biggest concern is for our rehab staff. Just today they started to get fit testing. I just got the white masks and I'm giving everyone two at a time."
The masks give members more than just an added layer of safety.
"I think because this is not just a physical issue it's mental and psychological warfare to go into a building where you know people are sick," she said. "I think PEF giving us masks and resources to help our members, this is what we need. It's nice to know we have a union to back us up, to help us out, to keep ourselves healthy.
"We are appreciative we were offered these things. The facility itself wasn't doing anything. I've been all over the building," Solokski said. "PEF has made a very big difference in terms of the morale. If they can't get a mask from central nursing, they can get it here."
Queens Parole Office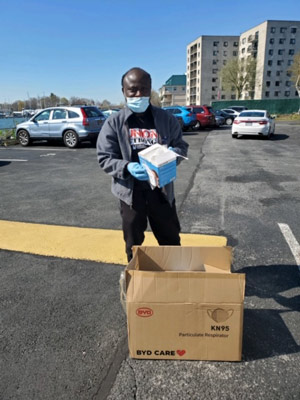 For Queens parole officers, having to continue entering hotspot locations like Riker's Island and Bellevue is frightening and is magnified by their lack of adequate PPE and sick time.
Unlike other law enforcement agencies with unlimited sick pay, PEF parole officers who are being hit by COVID-19 are facing returning to work when their sick days run out or go without pay, said  Parole Officer and Division 236 Treasurer Yolanda Pittman..
"We come off the books in five days, especially if you don't have Aflac or short-term disability," she said.
As someone with health conditions that put her at greater risk for COVID-19, the increased chance of infection that comes with her job is highly troubling for Pittman. She took it upon herself to gather masks and gloves to distribute to her fellow members and was grateful when the union was able to secure some, too.
"It really helped when PEF came through because we got the masks and little hand sanitizers," Pittman said.
Her members had many reactions to getting the donations.
"Some said, 'Thank you, anything is better than nothing. Or, 'How come my employer didn't have them for us?' We're willing to work, at least give us what we need." She said. "I think overall everybody appreciated it. It definitely made a difference. Thanks to President Spence, he is out there doing everything he can do."
Kingsboro Psychiatric Center and Brooklyn Children's Psychiatricenter
PEF Division 252 Assistant Council Leader Cheryl Jefferson received masks from PEF and began distributing them to her members, as well as to members at Brooklyn Children's PC.
"So far they have been very appreciative yet surprised," Jefferson said. "They have also been asking about PEF being able to provide hand sanitizer due to the limited supply in the facility."
Jefferson said the situation at their facility is impacting members strongly.
"The morale is low, most are fearful of still getting sick, being overwhelmed with limited profound support and guidance from their department heads," she said.
New York City Children's Center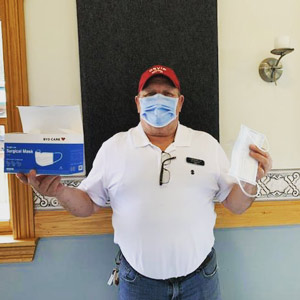 Cases of COVID-19 have hit the New York City Children's Center and staff says the situation has been dire.
"Our day treatment program works closely with the Department of Education, who is housed in our NYS facility. Early last month there were rumors that some of their members had tested positive," said Division 188 Council Leader Maxine Breeden.
Administration dismissed the talk as rumor, but Breeden said PEF members were soon infected.
"The entire Intensive Day Treatment staff were infected, a total of nine staff in one cluster," she said. "To this day, there continues to be limited amount of masks being given on a daily basis and staff are told to return their soiled mask in order to get a replacement."
What PEF was able to provide bolstered their access.
"The masks PEF was able to provide gave the staff another outlet for obtaining them," she said.
Branching out across the state
PEF's Director of Organizing, Dan Carpenter, worked with PEF staff member Jessica Carpenter to coordinate distribution and create a spreadsheet of locations and contacts.
"We have worked with local leaders across the state to identify hotspots and to work on coordinating delivery," Carpenter said. So far that has included 5,500 N95 and close to 14,000 surgical masks, all donated, he said.
"We mailed out many to OPWDD and OMH facilities across upstate New York," Carpenter said. "As we have been hearing in local press reports, some of the mental health institutions have been dubbed the new nursing homes. It has been a priority that our members stay safe and be able to keep up New York standards."
Staying in touch with PEF members has been an added bonus to this project.
"It's been great to touch base with these leaders during this crisis," Carpenter said. "However some of the stories they share are heart wrenching about the current PPE conditions within state facilities."
Region 2
Region 2 Coordinator Andrew Puleo spent the better part of a week traveling to various locations around his region to deliver masks to stewards, treasurers and council leaders from divisions that had reached out and asked for masks.
"Everyone was happy to see that PEF was taking an interest in their wellbeing," Puleo said. "I think they were happy to see me. They were welcoming. And it was very well received that they were personally delivered."
Puleo said he used the deliveries as a way to keep member engagement going during the pandemic.
"I want to see them and answer questions," he said. "And to share what news I can."
Puleo received 1,200 masks from PEF on a late Friday afternoon and hit the ground running on the following Monday armed with boxes of masks with PEF stickers on them.
From mall parking lots, to facility parking lots, Puleo delivered to three different divisions that first day.
He delivered packages to Executive Board member Erin O'Brien, who planned to distribute the masks to coworkers at Elmira Correctional Facility; to Division 359 Council Leader Michael Singleton, who gladly accepted the supply for his Elmira Department of Labor office; and to Southport Correctional Facility's treasurer, assistant council leader and steward, Apryl Clary, David "Butch" Pierson and Tammy Daniels, where he also talked to members about the status of their labor/management meetings.
Puleo made more drops, meeting up with Jennifer Kirk for Elmira Psychiatric Center (EPC), as well as with Brenda Veilleux at EPC's satellite site in Seneca Falls, where he met with facility management for the first time and chatted with a member.
On April 29, Puleo went to Wellsville where he delivered to Alleghany County employees, some of whom are PEF members under a contract. The member he found there was a new member, who was meeting a PEF representative for the first time.
He also delivered masks to the New York State Fire Academy in Montour Falls, where he got a quick tour of the facility and saw the fallen worker memorial. Puleo has more plans to deliver masks in the coming days.
"Everyone was very excited to receive new masks," Puleo said. "The whole human connection was great. We are fortunate to have really good leaders here, they are all supportive."
Division 250 Council Leader Michael Singleton was grateful for the masks distributed in Region 2.
"My division is pretty small (approx. 17 members) and we are all working remotely from home," he said. "So, the need for PPE in order to perform our job duties has  been minimal. However, that being said, the union has came through with surgical masks for my division, which is divided into two geographically separated offices.
"Although plans on returning to work are far from formalized for my agency, we will be allowed to wear PPE in the form of masks and gloves," he said. "The union has provided for that need well in advance. At the end of the day, it's real actions like this, and not lip service that I'm seeing."
Capital Region Psychiatric Center
In the Capital Region, mask distributions were also underway to another psychiatric center. Psychiatric centers have been making the news recently for cases of COVID-19 among patients and staff.
Division 231 Council Leader Mary Haltermann at Capital District Psychiatric Center (CDPC) said she was contacted by PEF staff member Jessica Carpenter about her division's need for masks.
"I was very fortunate in that Jess Carpenter contacted me and asked if we could use some masks. Dan [Carpenter] called me when they came in at PEF headquarters and Chris Leo brought them down to my facility, which was awesome," she said. "We didn't have to wait for the mail."
CDPC is right next to Albany Medical Center and currently houses about 112 inpatients, as well as offers outpatient services, which are currently limited to medications and injections.
"We've had cases among patients and staff," she said. "That was one reason people were happy to see the masks coming in. We also have to wear one per day and some people are mandated to work two shifts in a row. It helps to have a backup mask with them."
Her members were overwhelmed and grateful they were included in the PEF mask distribution.
"That PEF was distributing them was a real boost to everybody," Haltermann said. "They reacted overwhelmingly overjoyed. People were calling me wanting to know where I was so that they could get their masks. They were over the moon about getting the masks from PEF."
Haltermann said many of her members have the old "cone-style" masks.
"They are very hard. They cut into your face when you have them on all day," she said. "They were very, very happy to get these masks."
Central New York Psychiatric Center
PEF members at facilities across the state have been grateful for the masks procured by PEF.
"At CNYPC we have eight wards on isolation due to positive COVID-19 patients," said PEF member Jennifer Fehlner, who distributed masks at Central New York Psychiatric Center. "PEF staff deemed essential were wearing homemade cloth masks to protect themselves. Only those having prolonged direct contact were given PPE. On April 20, PEF delivered enough N95s for each inpatient PEF member to be given proper PPE to wear while performing their essential duties."
Members in her division expressed many concerns before the delivery, Fehlner said.
"There are members who have concerns that the surgical masks are not enough to protect them while performing their job duties," Fehlner said. "These include members who work on units that don't have confirmed cases (yet), members who launder heavily soiled linen from COVID+ residents, and members who have not yet been provided workspaces where they can socially distance from other staff."
She passed on words of gratitude from Division 344 members.
"Thank you for picking up the masks! People were very thankful to PEF!" one said.
"Staff have been really appreciative of the masks…I think it really helps for them to feel like their union has their backs," said another.
"Thank you PEF for the masks, they have given the many essential workers confidence to continue providing services to our population during this difficult time. It is nice to know you have our backs," said a third.
Office of Children and Family Services
Nick Caputi, from the state Office of Children and Family Services, distributed masks to his coworkers and was thankful to PEF for providing them.
"Throughout these scary times brought on by the coronavirus pandemic it has been a great comfort to know that our union and President Wayne Spence has our back and is supporting the PEF members, especially essential staff," Caputi said. "PEF made sure we had masks and is monitoring our safety."
Western New York DDSO
Division 243 Council Leader Donna Karcz said PEF sent some N95 masks, which stewards have been giving out to members in the division's OPWDD facilities.
"As the WNYDDSO has been restricting the use of PPE, with staff being told to re-use paper surgical masks for a week, any help is appreciated, especially for our Habilitation Specialists who normally function as teachers in Day Hab, but are now being utilized as front line staff in group homes so the agency can maximize Medicaid billing," Karcz said. "This is a very scary time, especially for our members on the front lines. We truly appreciate the efforts that PEF has made toward protecting our members."
Sunmount DDSO
Tupper Lake's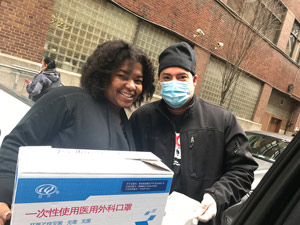 Sunmount DDSO is currently experiencing a surge of COVID cases.
"There is a hotspot right now in one of our community homes," said Division 242 Council Leader Stephanie Champagne. "I pursued PPE, whatever I could get from PEF, because of the fact we're so rural here and having a horrible time getting supplies because of the area."
The St. Lawrence County hotspot is just one of the facilities in Champagne's division, which is widespread, with some members an hour and 15 minutes away from each other.
"My concern was not having enough," she said. "I've been trying to be as proactive as possible, often that isn' t how state agencies operate. We are trying to get ahead of this in any way possible."
Champagne reached out to PEF for surgical masks, mini hand sanitizer from Membership Benefits and just received face shields.
The 270 masks sent by PEF will be going directly to frontline people dealing with COVID individuals, she said.
"Our agency is one of the agencies that has had PPE, but some of this stuff is being rationed, it's not like you can just go and grab a mask so my goal was an attempt to have a reserve," she said. "It's a huge comfort to know we're a part of something bigger.
"I think that often people view big PEF supporting Albany and New York City area. It's a huge comfort and a source of pride to know that we're valued up here in the North Country," Champagne said. "I feel like statewide leaders have been responsive to my questions and to my asks. We don't have the volume of members or cases that other more urban areas do. It's great to know that we're not forgotten."
Buffalo Psychiatric Center
Executive Board member Vincent Cicatello at Buffalo Psychiatric Center has been dolling out masks to members on the frontlines within his division and said the morale boost has been noticeable.
"We received 150 masks and I'm still giving some out," he said. "As we are handing them out and telling them they are coming from PEF, members are extremely pleased and supportive. They are saying, 'Make sure you thank PEF and President Spence, it means a lot to us.'"
Cicatello said members are thrilled their union is taking an active roll in protecting them.
"By PEF doing this, members are feeling a lot of support," he said. "These N95 masks are better than the cloth masks or the surgical masks that are going around."
Buffalo Psychiatric Center has an inpatient unit, clinics, and residential group homes. Cicatello is working to distribute the masks to the different work sites, with a focus on frontline workers.
He said it's not an "us versus them" mentally with administration and the masks being provided for staff.
"This is something our union is doing to support our members. It's not a negative," he said. "It's going across agencies and it's a good gesture to make sure these masks are out to the members. People feel a lot safer when they have better masks."
Department of Labor
PEF members at the Department of Labor are still working in the office, providing much-needed services to many New Yorkers during unprecedented unemployment. Division 202 Steward Wayne Bowers has been facilitating distribution of masks to members in need at his office.
"We have quite a few still working on our floor and we have new hires," Bowers said. "We work in cubicles and we are not going to always be able to maintain social distancing. Our agency had hand sanitizer. As far as anything else, nothing else was provided."
The members willing to stay in the office appreciate PEF's contribution.
"It's a nice gesture," Bowers said. "If they're willing to stay there working in the building it's something they will need. Some people have to go to work, they can't work from home."
You can help
PEF is gathering sponsors and donors for its Relief Fund to continue providing both PPE and hotel rooms for members in need. Read about the Relief Fund efforts here . Donate here.
In addition to donations, PEF has also been able to purchase a quantity of surgical masks. Any divisions needing masks can contact Dan Carpenter at gro.f1627342241ep@re1627342241tnepr1627342241acd1627342241.