PEF RNs striving to save patients and themselves
By SHERRY HALBROOK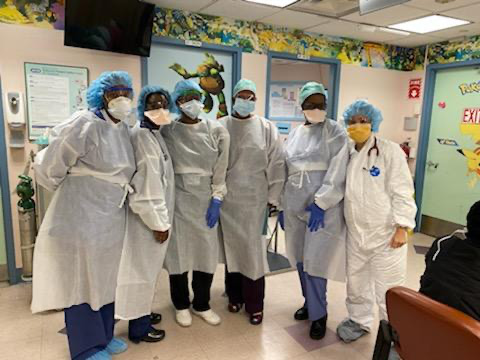 Comparing the fight against COVID-19 to an all-out shooting war with mass casualties is not an exaggeration. PEF nurses, doctors, EMTs and other medical professionals are the among the brave "troops" fighting this battle with too little ammunition, vastly outnumbered by the enemy and often missing protective gear they may need to survive the enemy attacks.
Their "MASH" unit is actually the heart of the battle, and they are all too vulnerable to becoming the casualties themselves.
"We love our jobs and we want to do our jobs, but please give us what we need to do our jobs safely!" begged a nurse and PEF leader working at a COVID-19 designated hospital where the battle between life and death is playing out over and over again on every shift, day and night.
PEF has been working to find ways to support and help its members on the front lines, working with friends and contacts in the New York City mayor's office and others to speed the delivery of desperately needed supplies.
PEF Political Director Leah Gonzalez said she spoke with the deputy mayor March 29 about getting more supplies for SUNY Downstate Medical Center in Brooklyn that is among the hospitals designated to handle only COVID-19 patients. She was assured that 15,000 N95 respirator masks, 44,000 surgical masks 20 ventilators were sent to Downstate the previous day.
"We want to do everything we can to help our members in their struggle to save lives, and to be safe doing it," said PEF President Wayne Spence. "We have worked hard to build relationships with elected leaders and others in the city as well as in Albany and now is when those contacts are indispensable."
Members working in the hospitals have no time to look at what happens behind the scenes.
Overrun with patients, every bed full on every unit, more than 50 patients in the emergency department waiting for beds on the floors, the medical staff is struggling much as it would in a war zone field hospital.
Feelings of isolation, desperation and fear of death closing in around you are inescapable.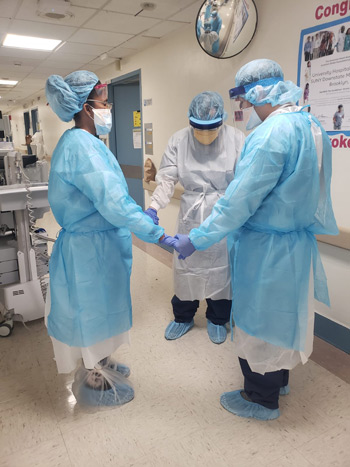 "When we begin a shift, we nurses huddle together and pray. We are afraid and we wonder when we will get sick," the nurse said. "Our patients are alone and scared and need someone to talk to, their families call and they are afraid and they need reassurance, our co-workers are scared and sometimes they are crying,
we are scared and our families are scared. We are trying to support each other and everyone else and it doesn't stop.
"These patients are really, really sick. We have so many patients needing oxygen all the time that our hospital oxygen system is overwhelmed. Alarms are going off in every room, sometimes for two hours. Our jobs are 10 times harder than usual.
"The patients just keep dying and dying in front of us. After so many, we are getting numb to it. And that is terrible.
"I'm supposed to care for six of the patients on the unit, but we often just have two nurses to care for them all. No one goes home when their 13-hour shift ends. I often stay another three or four hours. The state is offering to pay $100 per hour to nurses who come out of retirement or come here from other places to work temporarily, but when they see what it's like they want to go home. They don't want to stay.
"We are getting no extra pay incentive. We feel like we were dodging bullets and now we're dodging bombs. We feel like we are sacrificing our lives! We are not immune. The virus does not discriminate."
"At least we are all trying to support each other through this. The doctors and everyone here is so kind. I've never seen our entire staff so bonded like this before."
"When I go home, I immediately take off my clothes and shower and wash my hair and then I steam my face and nostrils for a long time. I have a child who needs to be close to me, but I have to stay away from him to try to keep him safe," the nurse said. "Someone has to watch him when I'm at work, but he needs me."
PEF has secured hotel rooms for its members near the hardest hit COVID-19 hospitals so that nurses and other nurses working there can take a room to rest in nearby if they are afraid to risk exposing family members at home or are just too exhausted to make the commute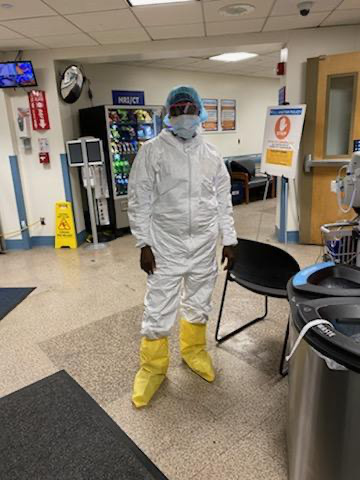 Nurses at the hospital are continually running out of the supplies they need to stay safe and to monitor and treat their patients the nurse said. They are constantly running out of things as basic as alcohol pads, gowns and thermometers, the nurse said. "Nurses are given one glove to last all day. If JACO saw that, it would go crazy!" (JACO is the hospital accreditation group called The Joint Commission.)
PEF Nurses Coordinator Doris Dodson said she has heard from many nurses who are very stressed because they lack the supplies they need and are being told to cut corners that would normally cause them to be disciplined or even fired.
"As nurses, we were all trained in infection control protocols to prevent the spread of infections," Dodson said. "Now they are being told to do things, such as reusing a mask, which would have been the subject of discipline. We were taught to take it off and throw it in a bag after seeing one patient and put on a fresh one before you see the next patient. Now nurses may be directed to use one mask for their entire shift."
PEF nurses say they are still running short of what they need and are forced to ration what they have. The need for supplies races forward, and as fast as they catch up on one thing, others come up short.
The nurse is still calling for more help.
"We are pleading: Give us what we need now! We just want to do our jobs and do them safely."