PEF retiree brings music to Brooklyn neighbors during COVID-19 isolation
By KATE MOSTACCIO
​The sounds of an accordion drew neighbors to their windows and stoops recently as PEF retiree Paul Stein donned a hardhat, asking people to "Stay 6 Feet Away," and gave an "Emergency Accordion Extravaganza" concert from his brownstone stoop in Brooklyn.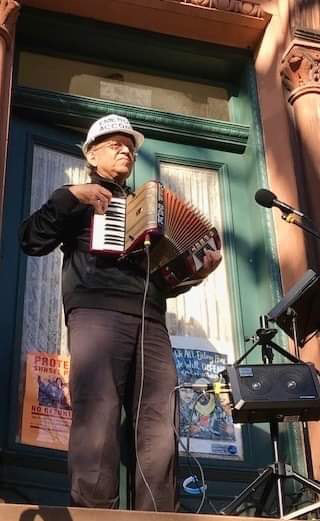 Stein was a longtime Council Leader of Division 199, working for the state Department of Health in New York City and at the New York State Veterans Home in St. Albans. As associate counsel in the Division of Legal Affairs' Bureau of Professional Medical Conduct, he spent his state career prosecuting medical misconduct.
The accordion has been Stein's instrument of choice since he was 8 years old.
"I started playing at school assemblies in the fourth grade,"
he recalled. "I picked the accordion because of the Lawrence Welk show. During the 1940s and 50s, the accordion was so prevalent around the country. Music schools after school taught the accordion.
"The accordion was known as a happy instrument," he said. "I think that's one of the reasons I took to it. It suited my personality. You can play by yourself and be a self-contained band. Until 9 years ago, I wasn't in any band or orchestra, I was always a single."
The upbeat, happy sounds of the accordion not only suit Stein's personality but also his ethnicity.
"I'm Jewish and the accordion is very good for Jewish music," he said. "I sing in English, Yiddish and in Hebrew."
Playing for a cause is nothing new for Stein.
"Since the 1980s I have been playing for community events and for political demonstrations and marches," he said. "I have played at Thanksgiving and Christmas dinners at community centers. Played for tens of thousands of people over the years during dinners. Participated in hundreds of demos and marches. I played at Occupy Wall Street."
Stein was inspired to play for his neighborhood as fear and uncertainty grips New York.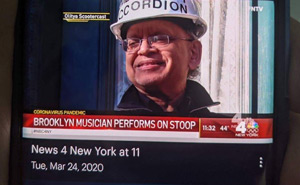 "I went out on my stoop to raise peoples' spirits and to bring them together," he said. "I think it is absolutely critical that as many people as possible in New York City, New York state, and all over the country, do not go out to keep the coronavirus from spreading. To keep the load on the hospitals down so they don't run out of vents and PPE.
"I started doing this because I wanted to make a contribution," he said. "I'm 71 years old. For years now my contributions have been through music. The wonderful thing about music is that when people do music together, it brings them together and it lifts peoples' spirits. Since I am an over 70 year old I should not go out."
He took inspiration from what he had seen from other countries as they face the same hardships.
"If they are hanging out windows in France, we have stoops," he said. "I've played out on the stoop before."
Some days the sounds of his accordion aren't alone.
"Neighbors play the drum, tambourine, or maracas," Stein said.
His concerts maintain the all-important social distancing standards necessary to slow the spread of COVID-19.
"I wanted to be totally compliant with the idea we should stay at home to flatten the curve," he said. "Our stoops are much more than 6 feet apart. I did it this way because I want people to stay home – stay far away from each other."
The concerts seem to be a hit among his neighbors, with people taking to their stoops and yards to enjoy Stein's uplifting lineup.
"I saw people leaning out of their windows clapping or just dancing in their houses," Stein said. "I did mostly upbeat stuff. The Mexican hat dance. The hokey pokey. I did some Jewish, Italian, Irish, Calypso, a lot of Latin X. We got people moving. It was a group activity while staying very far apart."
Stein said his concert made New York City news. And caught the attention of fellow musicians.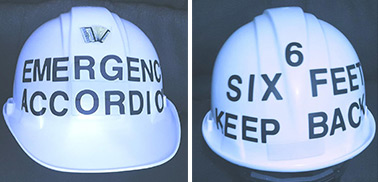 "Other people are starting to do it," he said. "We're trying to start a movement that way. I've gotten a lot of positive feedback from people. My friends living in England sent me a video of their toddler granddaughter dancing to my music. They played the YouTube post and she was dancing to the music.
"That's the amazing thing about the web and Facebook," he said. "People see it all over the world."
Stein is grateful he has a good retirement and can play music solely for the love of it.
"I am so grateful to PEF and to all unions for the fact I have a good retirement," he said. "I don' t have to make money on my music. I have a pension and Social Security thanks to many unions and that has enabled me to do socially conscious music without getting paid for it and make that contribution."