PEF Reg. 12 leader in race for state Senate
By SHERRY HALBROOK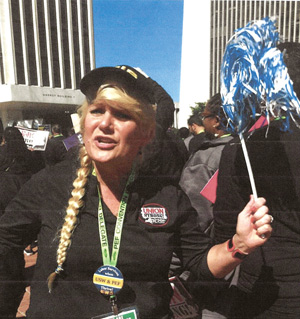 Have you ever wondered if state leaders really understand the challenges you face on the job and in your personal life?  That question bothered PEF Region 12 Coordinator Nora Higgins and she decided to run for the state Senate to bring a different perspective and voice to the Legislature.
If you are a Democrat living in state Senate District 1 at the eastern end of Long Island, you will see Higgins' name on your ballot in the June 23 primary election.  She is one of five candidates vying to be the party's candidate for the Senate in the November 3 general election.
Long Islanders and New Yorkers overall need more occupational diversity in their Legislature, Higgins said.
"While attending a Health Committee meeting in the state Assembly in 2019, I saw a room full of lawyers and there was Assemblywoman Aileen Gunther, who's a nurse, trying to sway the opinion of a few outspoken members of that committee," said Higgins, who was attending the meeting on behalf of the PEF Nurses Committee that she co-chaired. "It occurred to me that a little occupational diversity among our elected leaders was in order."
As a native of Suffolk County, a wife, mother, nurse, public employee, and community and union activist, Higgins said she wants to bring a very local, down-to-earth and caring voice to this important forum that tackles the state's toughest issues.
Noting that the Republican incumbent in the district has represented it for decades, Higgins said she feels it's time to embrace new ideas and insights.
"We need to forget about the old way of doing things, and focus on the right, and just way of doing things," Higgins said. "I believe all New Yorkers need to have enough to eat, enough money to live, and be able to establish trust in the people who are responsible for the outcomes of our very lives."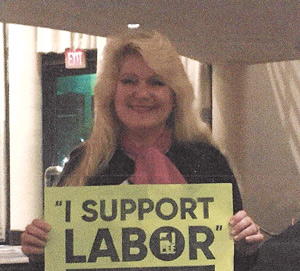 Higgins said she has a world of respect for lawyers, but feels that a broader range of perspectives, professional expertise and personal experience is needed to ensure the state's lawmakers can relate to the lives and needs of the people those laws will govern.
"I promise to bring the same high standards of professionalism and caring spirit to the role of legislator that I have brought to my duties as a nurse at SUNY Stony Brook and other health care facilities in Suffolk County," Higgins said.  "I know from my own experience how hard it is to be a working, single mom trying to raise a young family and still maintain a standard of professional excellence on the job.  I am blessed now to be remarried and to have learned so much from my activism on behalf of my fellow health care professionals and other state employees.  I want to bring that experience and all that it has taught me to the Senate.
"I have been with all of you through this pandemic nightmare, working to save lives and to provide compassion and emotional support to frightened patients, bereaved families and exhausted co-workers. I also understand that Long Island is losing it's young adults, is seeing its middle class beaten down, and its seniors challenged on many levels. Enough is enough!  I hope voters will stand with me at the polls as I will always stand with them through all of the challenges ahead.