PEF nurse uses skills to aid Guatemalans in need
By KATE MOSTACCIO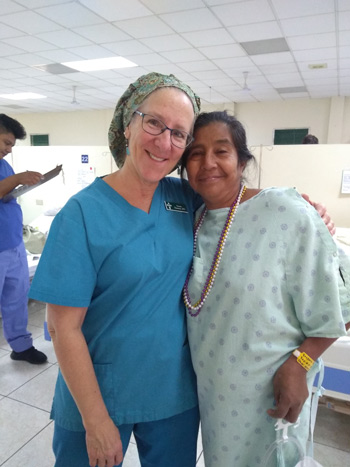 Susan Thomas was volunteering in Guatemala, building homes for the poor, when someone was injured and she rendered aid.
Her medical skills caught the attention of another volunteer.
"She asked, 'Are you a nurse?' I told her yes and she said, 'We need to talk,'" recalled Thomas, a PEF nurse since 2013 at Upstate University Hospital in Syracuse. The woman was from an organization called Health Talents International. "She told me about this surgical clinic they do once or twice a month for a week in the coastal region of Mantalano. They treat people who don't have access to health care due to their socio-economic or their financial status."
Thomas jumped at the chance to offer her services.
"This agency does mobile clinics and they go out in the surrounding villages and they help people," she said. Guatemalan physicians will evaluate the locals who come to a site to determine who might benefit from surgical intervention. Those patients are directed to attend another evaluation, this time with American doctors, who determine if surgery is necessary.
"It's word of mouth," Thomas said. "The local doctors speak their language and know the culture."
In 2017, Thomas began traveling to Guatemala to participate in the surgical clinics. She was scheduled to travel down for the 14th time this April before the coronavirus pandemic forced trip cancellations. Each trip, she funds herself.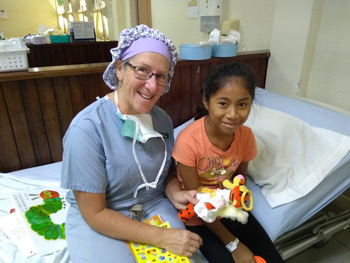 "I feel like it's really an opportunity for me to go and use my skills and really show love of God," Thomas said. "God has blessed me so much with my kids, the things I have, my job. I use the resources my husband and I have to really bless somebody else."
Health Talents International has temporarily suspended trips due to COVID-19, but anyone over the age 16, with or without medical background, can still visit the website and get information about the clinics and programs in Guatemala.
"I would love it if there was anyone out there that had a mission trip on their bucket list," Thomas said. She offered her email if someone was interested: moc.e1627952668vil@216279526686lluf1627952668yoj1627952668. "It would be great if someone wanted to come along."
It's a big commitment, with costs ranging from $1,200 to $1,700 a trip. That includes airfare, room and board, and funds for necessary medical supplies used in the surgical clinic over the course of the week in Guatemala.
"You don't have to be a medical person," Thomas said. "You can be a caregiver. People can escort someone to the bathroom, get someone a glass of water, or hold a cold compress for a patient. I had one nurse go along with me and she loved it."